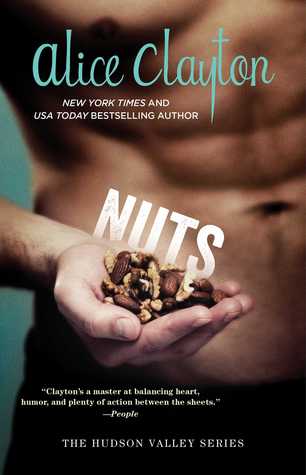 Nuts

by Alice Clayton
on October 20, 2015
Pages: 320
Buy on Amazon
Goodreads


From New York Times bestselling author Alice Clayton, the first in a brand-new romance series telling the humorously sexy tale of Roxie, a private chef who gets a taste of love—but is it to stay, or to go?

After losing almost all of her clients in one fell swoop following an accident involving whipped cream, private chef to Hollywood's elite Roxie Callahan gets a call from her flighty mother, saying she's needed home in upstate New York to run the family diner. Once she's back in the Hudson Valley, local organic farmer Leo delivers Roxie a lovely bunch of walnuts, and soon sparks—and clothing—begin to fly. Leo believes that everything worth doing is worth doing slowly…and how! But will Roxie stay upstate, or will the lure of West Coast redemption tempt her back to Tinseltown?
Nuts is book 1 in a new series by the hilarious Alice Clayton. The Hudson Valley Series takes place in Hudson Valley, NY and this one is the story of Roxie Callahan, a private chef who is dealing with her Hollywood based catering business crashing and local farmer, Leo Maxwell.
Pairing a chef with a farmer made for some adorable foodie comments and allows the reader and characters to bond over food.
I adored bearing witness to Alice falling love with small town living; though she grew up in the small town she returns home to, watching her experience the town as an adult especially in contrast to her time in L.A. was so enjoyable. And it may just make you fall in love with small town American.
Nuts offers readers the humor and banter they have grown accustomed to when reading an Alice Clayton book!
"You okay?" he asked as I reached him.
"Yeah. Why?" I said, tugging at my T-shirt. Air, please—just a little air.
"Sounded like you were—"
"Just clearing my throat," I said, and quickly changed the topic. "I made the black walnut cake, with cream cheese butter- cream frosting." I thrust the white box into his hands.
"Wow, you really made me cake?" he asked, looking quite pleased.
"Well, I made it for the diner; the rest got sold today."
"Is it good?" he asked.
I grinned. "It's fucking great."
Leo closed his eyes and shook his head, and I realized I'd just F-bombed a Boy Scout troop.
Roxie is too funny as sometimes as her attraction to Leo starts instantly and grows as they continue to literally run into each other:
"I suppose so," he chuckled. "Although technically, you've now literally thrown yourself at me twice. Shouldn't you be offering me something?" His eyes were warm, and a little challenging. He seemed to be asking me to play."
The use of secondary characters in this one was really well done.  Roxie's mother was mystical as sort of hippie throwback and she and Roxie have an adorable relationship:
"Use mitts if you're baking; that old oven is testy."
"I will."
"Use citronella oil if you're in the woods."
"I will."
"Use sunscreen if you go swimming in the lake."
"I will."
"Use a condom if you have sex with a farmer."
"I will— Jesus, Mother!"
This book gets really good and very interesting when Polly enters stage left…  as many of you know I hate love triangles so keep guessing why I am loving this twist!
As Roxie deals with this new reality, one where her heart is vested and Polly is in the picture, I was glued to my kindle
This mother daughter relationship  does play into a series of elements towards the end – story layering that was really well done by Ms. Clayton.
Pork chop and Sugar Snap – perfect end for them!
I am very much looking forward to Cream book 2 in this series http://amzn.to/1hTBvkR I hope it is about Leo the dairy farmer next door, because yes I want to know more about this mysterious man.