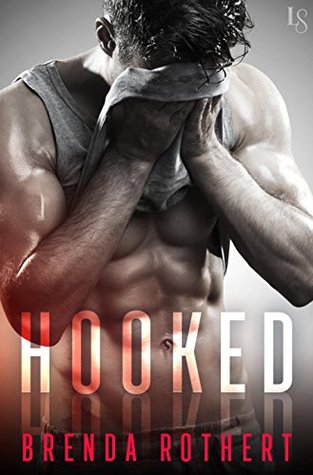 Hooked

by Brenda Rothert
on December 6, 2016
Buy on Amazon, Buy on B&N, Buy on iTunes, Buy on Kobo
Goodreads

From the author of the On the Line and Fire on Ice hockey romance series comes a sultry novel featuring a brooding NHL player who's hell on skates—and the no-nonsense woman who forces him to clean up his act.

Miranda: Even though I'm broke, putting myself through college, and working two jobs, I'm trying to make the best of it. Meanwhile, Jake Birch, hockey's hottest bad boy, lives in a luxury hotel in downtown Chicago—and still complains about every little thing in his penthouse. But after I tell him off, instead of getting me fired, Jake requests me as his personal housekeeper. Then he starts flirting with me. Only I'm not flirting back . . . at least, I'm trying not to. Did I mention that he's hockey's hottest bad boy?

Jake: I've met the best woman at the worst possible time. Miranda is the fire to my ice—a sexy, charmingly candid spark who breaks down my walls and reminds me what it's like to feel again. But I'm being forced to date my team owner's daughter to keep my job, so I can't be caught with Miranda. Still, we're getting closer—until Miranda finds out about my "girlfriend." And that's not the only secret I've been keeping. But Miranda's the one I want . . . even if she doesn't believe me.
Hooked pulled me in and I so enjoyed living in this world for a few hours straight during a long drive home.
Jake's story and journey were so powerful; his backstory was so powerful; readers will feel such a range of emotions as it unfolds. The author slowly reveals his why's and how he is who he is when we meet him in the opening chapters. Warning you may not love him when you first meet him, well you don't actually meet him, you hear about his persona.
Miranda was a strong heroine; I adored how she didn't fall at Jake's feet. She was thoughtful and driven, though yes attracted to a sexy NHL player as the story develops you can feel that Miranda is attracted to the man beneath the persona.
Oh and toward the end, she pushes Jake to be more of himself again. Given his past, Jake will never be truly whole again but she helps him see a new reality, one with room to the past (yes vague I know read the book).
I shed a few tears leading to the layered happy and a hero so much stronger for the woman in his life. Oh and the epilogue was WOW!!! Warm and fuzzy on so many levels.
I do hope we get a story for  some of the secondary characters as they added to the story and so need a happy too!