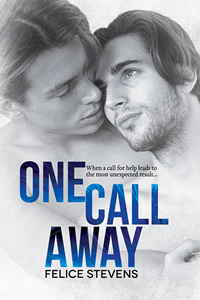 One Call Away

by Felice Stevens
Pages: 263
Buy on Amazon, Buy on B&N, Buy on Kobo
Goodreads


When a brutal attack from a jealous competitor leaves Noah Strauss, darling of the modeling world, physically scarred and emotionally damaged, he quits the runway to become a psychologist. Using his contacts from his time in the spotlight, he creates One Call Away, a radio show dedicated to gay men looking for love, advice or someone to talk to. But with secrets of his own and a mother who refuses to understand the career path he's chosen, the one person Noah can't seem to help is himself.

On a drunken dare from the senior partner's grandson, Oren Leavitt calls Noah's radio show, pretending to be gay. Only Oren isn't certain if he's pretending. He's left his strict Orthodox Jewish upbringing behind, but the guilt remains. Guilt that his actions have prevented his sister from finding a husband and guilt that he's failed his parents. Talking to "Dr. Noah" helps, and as he finds himself calling the man again and again, he knows he must be honest. But Oren is unsure if he's lying to Noah or himself.

For Noah, trust is paramount; he's been deceived in his personal and professional life and while he desperately wants to help Oren, he also finds himself falling for the sweet and tortured man. Oren is trapped: he risks losing his job and more importantly the love and security of his family but knows he can't hide if he wants to be with Noah. When unresolved heartaches from the past rise up to control the present, Noah and Oren discover that love often comes from the most unexpected places, and sometimes a call for help not only saves a life, it can be a new and beautiful beginning.
One Call Away kept me engaged and engrossed in the story. I was so thankful I opened this book on the airplane, well really in the airport prior… because from the moment I opened it, it sucked me in.
Yes, I was pouting when I had to put it down to board and I was happy with the change in airline rules that means I didn't have to put my kindle away during take off.
One Call Away is the story of former model, now radio host Noah Strauss and Oren Leavitt, a lawyer struggling to find his way after leaving his orthodox jewish family.
Bearing witness to Noah and Oren's connection is what kept me glued to my kindle, the reader can feel the attraction and the conflict Oren feels and it is both powerful and endearing.
The world around these two, both the characters that surround them and New York City itself crafted a world that felt real. I was rooting for these two from the moment Oren called in and it was clear these two had a connection. Speaking of connection I think that is what I loved most about this story that the readers knows this connection if different for both characters.
Both men have pasts and families to come to terms with and both were handled really well and layered with emotions.
One Call Away is a book laced with deep emotion as well as a heat because yes this attraction comes with some great 'I can't keep my hands off you' scenes.
In the end, the happy these two find touched me deeply and put a huge smile on my face!
This book is a standalone but for those who have read Ms. Stevens prior books, she does manage to weave in some familiar faces
P.S. this author did a fabulous job at explaining Oren's religious background.