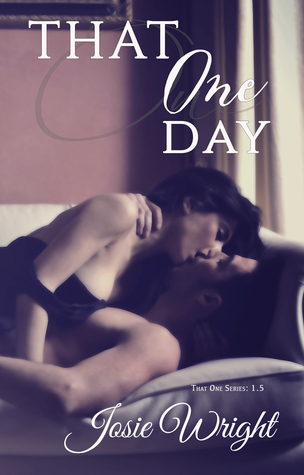 That One Day

by Josie Wright
on May 6, 2016
Buy on Amazon
Goodreads

One day.
One letter.
That's all it took for my life to fall apart. Now all that's left is deception and betrayal. I don't know who I am anymore. I don't know who to trust.

So I leave, searching for the truth hidden behind a web of lies.

The only thing I take with me, besides a bag of clothes, is the memory of one night. That one night with Frankie, my best friend's little sister. The woman I have loved as long as I can remember.

The memory is what keeps me going when I learn the truth. It's what keeps me sane when I feel like I'm losing my mind. And, it's what drives me back to a life I ran from eighteen months ago.

Yet, nothing is the way it used to be. Frankie has a secret. One that changes everything. Changes who I am. Letting her go is not an option. I have to make her trust me. I need to make her mine.

But I have a secret of my own. One that keeps me awake at night. A secret that could make me lose Frankie forever. It's not a chance I can take.

Not suitable for under 18's due to strong language, violence and sexual content

*Though this book can be read as a standalone, it's recommended to read 'That One Night' first to get the full picture.
Though this book is listed as book 1.5 if you love male POV, I truly think it can be read as a stand alone. That One Day is Ben's side and then some of what went down in That One Night. That One Night was told in Frankie's POV (Frankie is a female; this is a m/f love story).
Both books take the reader on a roller coaster of emotions as both main characters have a secret. Frankie's secret about that one night is life altering for all involved and Ben's one secret layers through his past and affects his future more than he could ever imagine as the story unfolds. The one thing both don't seem to embrace is the ability to trust. Now this evolves as the book develops and in the end they do come to trust; how they come to this place touched my heart.
It becomes clear that they are each others "one." I adored Ben in book 1 even when I wanted to hate him, but in this one, my heart broke for him even more as the pain from his one big secret clearly cut him to the core.
"My life is falling apart, and I don't want to drag her into it. I'm consumed by anger, pain and sadness. There is no room for love and happiness right now. She deserves better than the chaos surrounding me."
When Ben decides he is going to win Frankie back, that she is his one, I fell even more in love with him. Ben was so patient, so kind, so open, so loving and so willing to take the timing to earn Frankie's trust!
"This is it. This is the Promised Land. She's the one."
The family Frankie and Ben create in the end was so perfect for them. Though everyone doesn't move forward with them, the people they chose to surround themselves with are truly those who will be part of their lives forever (nope not telling read the book).
Oh and I loved Frankie's brother David and I am very much looking forward to this story in That One Minute!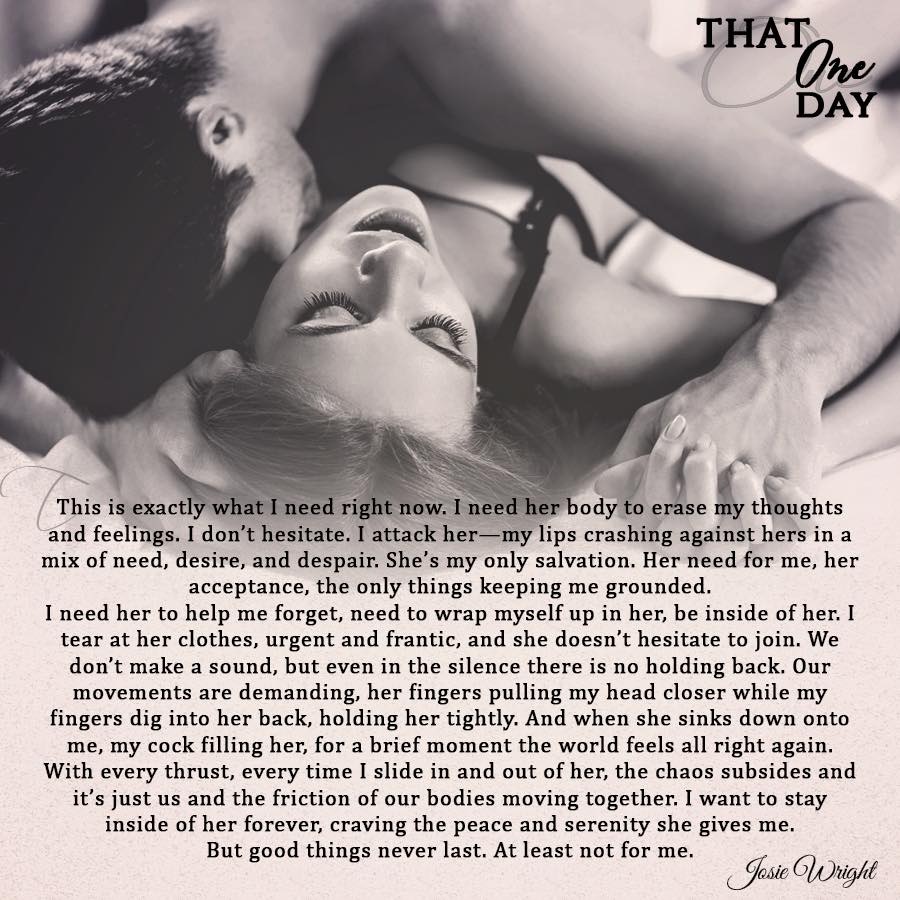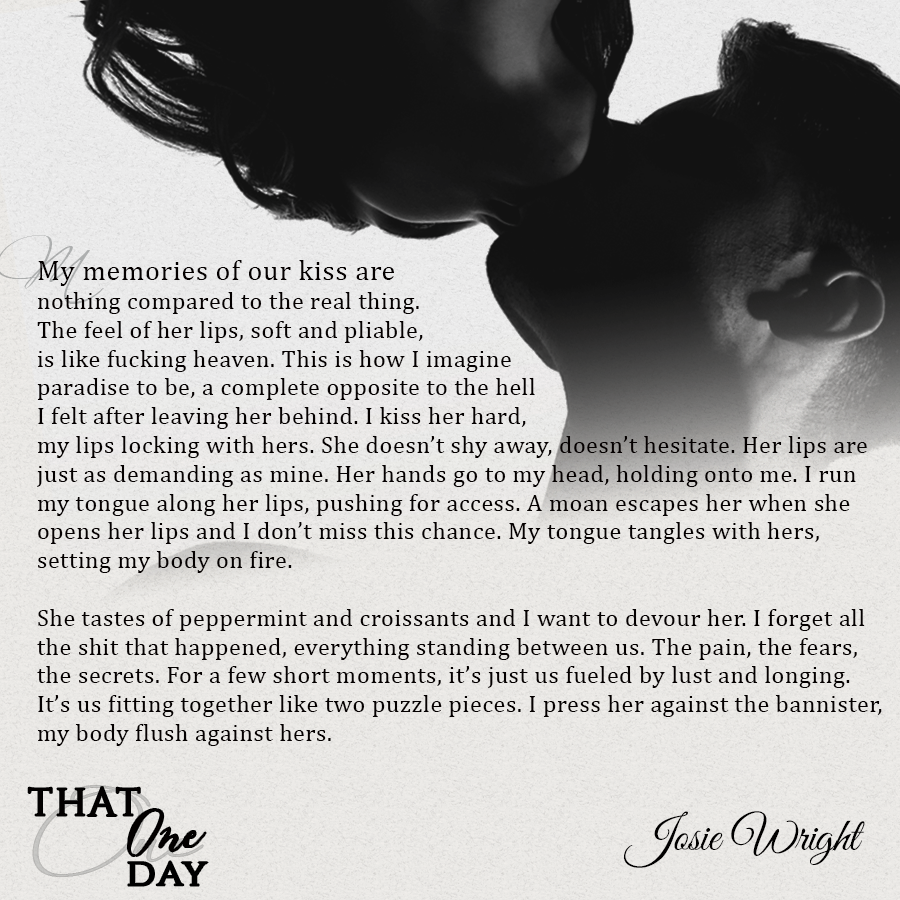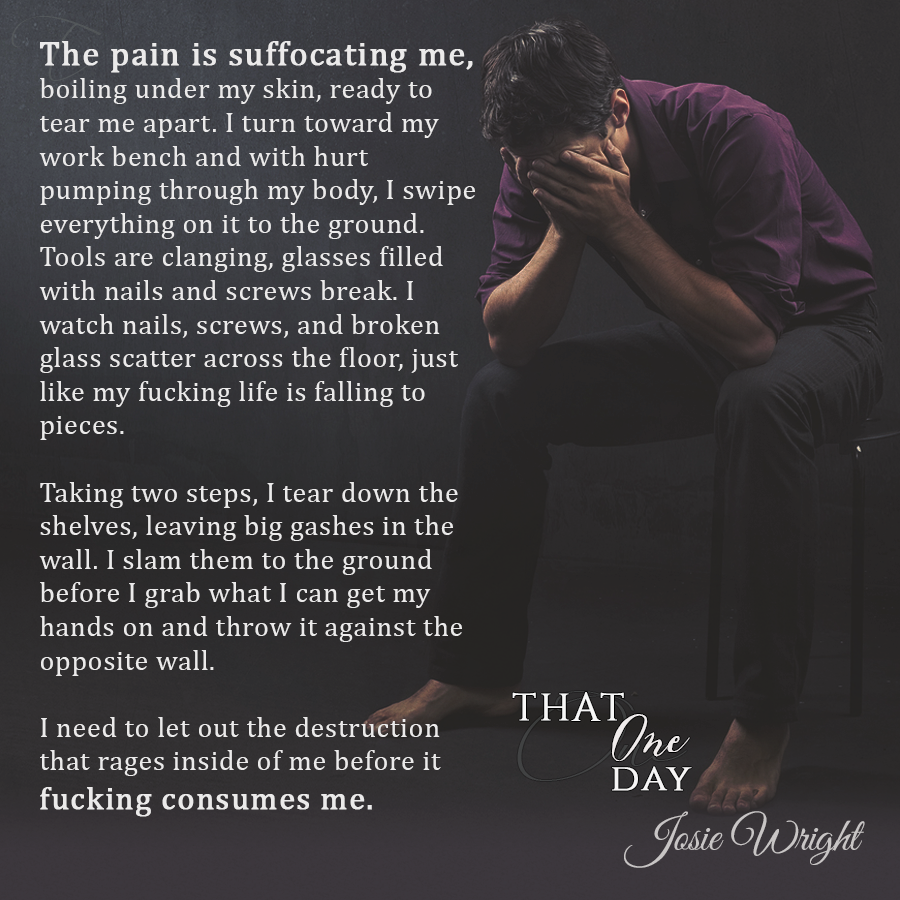 ♥READ THE SERIES♥
Book 1 – That One Night
Book 1.5 – That One Day