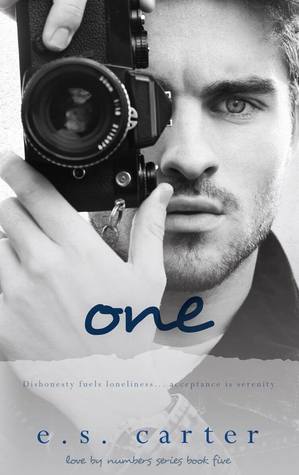 One

by E.S. Carter
on December 1, 2016
Buy on Amazon, Buy on B&N, Buy on iTunes, Buy on Kobo
Goodreads


One click.
One perfect frame.
That's all it takes to capture an eternal moment; although most people let them pass by without acknowledgement.
I don't waste any.
Not a single one.
If I see something of beauty, I want to experience it, feel it and immortalise it.
If I see someone of beauty, I want to taste them, worship them and memorise them.
I don't have a type, if I like you, I like you.
I don't have a preference.
My bisexuality is a gift, not a defect.
It's the freedom to see beyond gender.
One blink.
One touch.
One night.
Life is filled with so many ones.
One chance to get things right.
One life to live as you choose.
One decision that gives you acceptance.
One person to fill the emptiness.
Just one?
Nah, like I said, life is full of ones.
My camera lets me focus on the good times; I develop from life's negatives and if things don't work out, I just take another shot.
Who needs just one?

Book #5 in the 'Love by Numbers' series.
Can be read as a standalone.
Before I even start, I need to thank Karen for pushing me to read this book. I had tried a book by this author prior and didn't love it. Karen said I should try again and man am I glad I did as I loved One. Isaac and Flynn pulled me in from the opening scene and kept me glued to my kindle as I was so engrossed in their story!
The range of emotions this author elicits is masterful; I went from hating Flynn (and you will too for a bit) to having my heart break for him.
The sensitive topics addressed in this book were done so well! Flynn's background was slowly revealed, slowly endearing him to the reader who likely hates him.
Isaac is such a lovable character, a man comfortable in his own skin who adores his family!  Witnessing Isaac with his brother Josh and Josh's daughter Ivy so set the stage for a man with a big heart who just needed the right person to let in.
I am NOT going to share why Josh plays a role in this book but I will say I am so excited to learn that Josh, is getting a happy in Eight.  I also love the use of Josh to push Isaac when the time comes.
Yes, this book has a few hot scenes but they are filled with so much emotion, it is so clear the sex is about a connection, a connection it takes both some time to fully accept.
This story is laced with emotions, filled with an honest look at grief and a tale of the power of love once you open your heart to the fact it may come to you in a form you didn't expect.
In the end, the happy Isaac and Flynn found warmed my heart.
Please note I read this story stand alone.