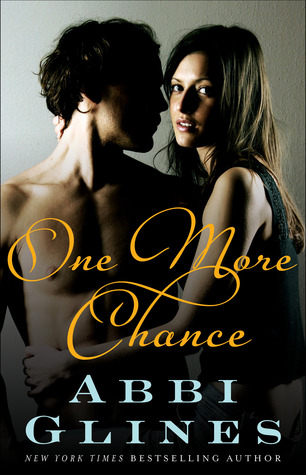 One More Chance

by Abbi Glines
on September 2, 2014
Pages: 272
Buy on Amazon
Goodreads


Grant Carter did everything in his power to convince Harlow Manning that he was a good guy. More than a smooth-talker and someone she could trust. He had to overcome his reputation as a playboy, and his history with Harlow's half-sister, Nan, a woman with a reputation of her own.

Harlow had taken the chance, falling hard and fast for the guy who thrilled her with his all-consuming desire. After a lifetime of avoiding bad boys like Grant, she had opened herself to the possibilities of love...

But a life-changing secret has torn them apart, and now Grant and Harlow must decide if they have enough fight to make it work - or if the pain of betrayal has permanently destroyed their future.
I couldn't wait to get my hands on this book as at the end of Take A Chance, I didn't know that Grant could ever win Harlow back. Emotionally beautiful and uplifting…I say it after each book but this is my fave in the series so far!
Grant proves in spades in this book just how much Harlow means to him and that he would go to any lengths to win her love and trust back. His love poured from the pages, so deep and real. I have to say that since we first met Grant many books ago, he has grown so much throughout this series and I am so proud of the man he has become.
I have always liked Harlow and I understand her determination, her stubbornness and strong willed nature when it came to deciding what she wanted to do with her life and in the circumstances she found herself in. She shows over and over again how strong she is despite everything.
I felt very emotional while reading this book, maybe because of the circumstances that this couple find themselves in but I found it so difficult to make any kind of decision without knowing what the outcome could be. I know I am being vague but you have to read this book to find out what I am referring to! I will also say that Harlow's letters had me sobbing…I thought that this was so well done!
This is a tough journey that this couple will embark on as plans for the future are questionable and only time will tell if this love and this couple will survive their hardships. This journey was scary, emotional and heartfelt and I felt that I was living this experience with them both.
My FAVORITE part of this was their bond and relationship. This was a true test for Harlow and Grant but I truly felt that with them being together that anything was possible because of their bravery, strength and above all complete love for each other.
Nan surpised me in this book and I saw another side of her, a side with an actual heart. I hope we see more of this in the future.
Seeing all prior characters from the other books was like coming home..being with family…and I hope that we get more the Rosemary Beach gang. Loved it!
♥READ THE SERIES♥
Book 1 – Fallen Too Far
Book 2 – Never Too Far
Book 3 – Forever Too Far
Book 4 – Twisted Perfection
Book 5 – Simple Perfection
Book 6 – Take A Chance
Book 7 – One More Chance
Abbi's FALL IN LOVE TOUR with Jamie McGuire & Colleen Hoover, started on September 2nd. More information about tour stops can be found at www.fallinlovetour2014.com.