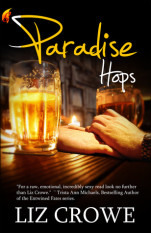 5 STARS!!!
Summary
A brutal attack left Lori Brockton convinced she was damaged goods. By the time she emerges from hiding two years later, ready to run her family's famous brewery, she's determined to be independent–never rely on anyone ever again. Nearly a year of working in every corner of Brockton Brewing Company, from warehouse to pub, front office to kitchen, teaches her all she needs to know about the business. Then, she comes face-to-face with masculine perfection in a suit and her world is rocked in more ways than one. Garret Hunter is the new Brockton business manager who takes one look at the beautiful, sad young woman and his entire existence coalesces around winning her heart.
But standing between Garrett and what he believes is his true love, is a six-feet six-inch blond-haired bad boy brewer.
Eli Buchannan is a craft beer rock star, recently hired by Brockton to drag the company into the 21st century. He brings innovation and attitude plus a prima donna ladies' man reputation. But he's sworn off anything resembling commitment, personal or professional, after getting burned at his last job on both fronts.
Garret Hunter is "The Perfect Man" — handsome, successful, stable, eager to settle down. Eli Buchannan… is not. Compelling, smoking hot, creative and elusive, he represents everything Lori Brockton should avoid. But just as she makes a difficult choice, a drastic life-changing shift occurs, and nothing is ever the same again
Denise's Review
Paradise Hops is a beautifully and heart wrenching story of healing and redemption. A story about love, and how life can bring you beauty as you push through adversity and find personal triumph on the other side.
This story tells the tale of the daughter of a brewery owner Lori Brockton.  She is the victim of a brutal attack that has effected her life in more ways then one could even contemplate, all of which given the nature of the attack feel real.
After years of hiding, Lori returns to the family business, her father's brewery, the Brockton Brewing Company entering into a rotation that will allow her to learn all aspects of the business from the ground floor up.
Lori is fiercely independent and has no desire or idea how to rely on someone else. She is surrounded by mostly people who have know her since childhood, they know her whole life story; that is until she starts to interact with two of her father's newest employees, Garrett Hunter the new
business manager and Eli Buchannan the new master brewer.
Lori is taken aback by her reaction when she comes face-to-face with over 6 feet of perfection in a suit, Garrett. Her world is turned upside down in more ways than one; Lori is faced with emotions she has not allowed herself to feel in years along with a man who will not allow her to deny herself of
them anymore.
Garrett's reaction when he sets eyes on Lori, this wounded beautiful young woman, is just as powerful. Garrett makes it is mission to help Lori heal, to fix her and win her heart in the process.
What stands between Garrett and what he believes is his true love is one of the few things in his world that Garrett most certainly can't control is Eli, the six feet six inch gorgeous blond-haired master brewer. Oh the other thing Garrett can't control is that Lori's rotation program puts her square in Eli's space all working day.
Eli is professional trained and part of the Brockton Company plan to move the brewery forward. Eli is confidence, with swagger, yes ladies he will melt you heart, innovation and has a world class prima donna ladies man reputation. Eli has been wounded before not in an attack like Lori but his
past has him swearing off commitment on all levels.
Lori's time on the brewery floor has her falling in love with the brewing process and compels to learn all there is to know about the process of brewing beers in all forms.
Lori is faced with what appear to be two opposites pulling at her; Garret Hunter who appears to be the "The Perfect Man" handsome, successful, stable, with a burning desire to have Lori as his own and Eli Buchannan who is compelling, hot, creative, and on the surface a bad boy who will take what
he wants and then be done with Lori.
Lori desire to be independent and her desire to learn the family trade leads her to one of those life turning points. The events that follow will take you on a journey that is powerful, heartfelt, emotional and beyond layered.  The character development in this book is amazing, the story that unfolds
will grip you and keep you reading. Liz managed to show you personal growth in many of the characters in this book. Her ability to show you her characters development of emotional connections is masterful; here are a few personal interaction as well as of all things a skye conversation that will
melt your heart.
This book is real story about what happens to the characters when life happens.
Ms Crowe's story contains true character development, personal growth, and a love story what will have breathless. Oh and the epilogue is EPIC!!!
Liz, thank you for the amazing read. I truly hope this book gains the notoriety this wonderful written book deserves.
I was provided an ARC copy of this book in exchange for an honest review.
About the Author
Microbrewery owner, best-selling author, beer blogger and journalist, mom of three teenagers, and soccer fan, Liz lives in the great Midwest, in a major college town.  Years of experience in sales and fund raising, plus an eight-year stint as an ex-pat trailing spouse, plus making her way in a world of men (i.e. the beer industry), has prepped her for life as erotic romance author.
When she isn't sweating inventory and sales figures for the brewery, she can be found writing, editing or sweating promotional efforts for her latest publications.
Her groundbreaking romance subgenre, "Romance for Real Life," has gained thousands of fans and followers who are interested less in the "HEA" and more in the "WHA" ("What Happens After?")
Her beer blog a2beerwench.com is nationally recognized for its insider yet outsider views on the craft beer industry. Her books are set in the not-so-common worlds of breweries, on the soccer pitch and in high-powered real estate offices.  Don't ask her for anything "like" a Budweiser or risk painful injury.
Twitter beerwencha2
Website www.lizcrowe.com
Facebook
www.facebook.com/lizcroweauthor
www.facebook.com/groups/romanceforreallife
www.facebook.com/jackgordonrealtor