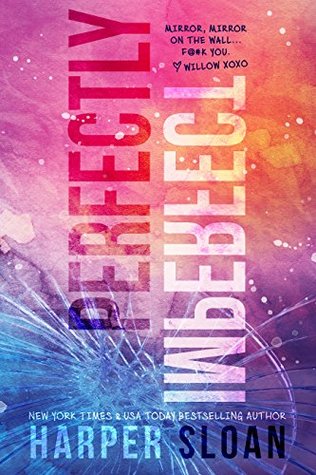 Perfectly Imperfect

by Harper Sloan
on November 17, 2015
Buy on Amazon
Goodreads


Mirror, mirror ... who's the fairest of them all?

I still cringe when I hear that line. A fairy tale that had girls pretending they were the fairest, the most beautiful, and the most entitled. A fairy tale most couldn't grow out of turned my haunted childhood memories into a living nightmare. Girls who grew up believing that pile of garbage became the meanest of all 'mean girls.'

And those mean girls were right - it was a line meant for all the beautiful people in the world - and I knew the answer would never be me.

The women with long legs, flat stomachs, and perfect chests.

The type of women Kane Masters gravitated toward.

Well, that's definitely not Willow Tate.

No. That will never be me.

Because I'm completely imperfect.

And ... I hate myself.

I have no idea what Kane could possibly see in someone like me when he could have them.

*Standalone Novel*
With a blurb like this I was immediately thinking I have to read this one:
Mirror, mirror … who's the fairest of them all?
I still cringe when I hear that line. A fairy tale that had girls pretending they were the fairest, the most beautiful, and the most entitled. A fairy tale most couldn't grow out of turned my haunted childhood memories into a living nightmare. Girls who grew up believing that pile of garbage became the meanest of all 'mean girls.'
And those mean girls were right – it was a line meant for all the beautiful people in the world – and I knew the answer would never be me.
Let me say Ms. Sloan did not disappoint. From the moment you open this one, the emotions bleed off of the pages. Perfectly Imperfect is a must click/must read.
Since the blurb does not share personal details of Willow and Kane, neither will I. I will say I love how these two came together and the pull they have toward each other. You could feel the depth of feelings they develop, that instant connection, the something neither has felt for anyone else builds into kindle gripping emotions. This is the kind of book you don't want to put down!
It is no secret that I love a man who goes after what he wants, so I will say I freaking loved Kane! Kane knows he wants Willow and he has a plan to get her; one that he is relentless in. The more Kane learns about Willow, the deeper he falls and the more careful he is with her.. well careful except for the secret (OMG I loved how this played out and nope not telling you..read the book!).
And from the moment we hear from Kane in Chatper 6 because yes this is a dual POV book, I was completely hooked!
Though Willow's scars run deep, body issues, self esteem issues; she expresses emotions I think many women will relate to on one level or other.
Given who Kane is, it is easy to understand Willow's concerns and having heard from Kane, it is crystal clear to the reader on so many levels why he feels Willow is his one!
"Yeah, I love my women with curves because I find them mouthwateringly attractive, but also because when they lacked those curves I crave, I always feared I would break them if I fucked how I love to f*ck. Hard. Bruising. Rough." 
Willow's early impressions of Kane say so much about her head space:
"I am in the imperfect to his perfect."
I loved how especially towards the very end, we see that Kane is not perfect and how in the epilogue when life throws him a curve that Willow is there for him as he was for her.
But I digress a bit and I apologize for jumping around but this book made me feel so much and I truly want to relay those emotions without revealing the story that gets the reader to feel so deeply.
So I will say I loved Mia and the use of her… no this is not a love triangle, no this is NOT a man who is wishy washy about who he wants, as I said I love Kane because it is so clear that he wants Willow. So trust me when I say the use of Mia makes for an amazing story line; one that will make you love Kane even more even though for a few pages you may think you want to throttle him. But you won't because the twist here will make you love him times 10!
Maybe it is best to relay the personal journey this one put me on… 15 years ago this week, I married a man who calls me "Beautiful"… Ms. Sloan made me think…do I really believe him, does he not see the imperfections I see, and then I thought wait… it's not about the shell but the love that runs deep, the love and the life we share.
That may be too personal for a review or may have nothing to do with the book, but I challenge any reader to not see a small piece of Willow in themselves.
I truly hope the #iAmWillow hashtag trends during release week as readers think about how they see themselves.
Loving yourself is the most important thing you can do and hats off to Ms. Sloan for reminding so many of that, this reader included.
I will leave you with this.. since there is no way I can say it better than Ms. Sloan did:
"I love me for me. I love me for you. And I love you because you were the one who gave me this beautiful love, taught me to how to see myself, and there is no one who could ever come between that."