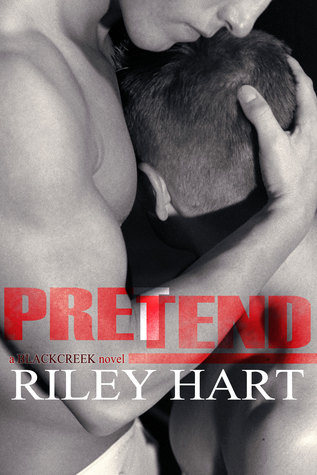 Pretend

by Riley Hart
on December 29, 2014
Buy on Amazon
Goodreads


Mason Alexander thought all he wanted in life was something to call his own—something without the family name attached. He got that when he bought his bar in Blackcreek...but then a hard truth opens his eyes that he's been lied to his whole life, and he's tangled amid the family that loves him, a truth that haunts him, and torn between the life he wants for himself and the obligation he feels for his family.

Gavin Davis knows a thing or two about living a double life. Being a gay man with strict Christian parents who believe he's going to Hell, has never been easy. Instead of dealing, Gavin lost himself in his career. Teaching music gives him solace. So when he loses his job at a private school for helping out a gay kid, he feels like he lost more than a job. He lost his identity.

Blackcreek is a new start for both of them, two men, loyal to a fault, who both feel obligated to people in their lives. What Mason and Gavin don't expect to find in each other is the place where they can be real. They know they want each other, it's the rest of it they can't figure out. Caught between loyalty, obligation, fear, tragedy and family, Mason and Gavin's lives threaten to pull them away from each other if they don't get real, and stop playing pretend, for good.
Pretend tells the story of local bar owner Mason Alexander and Gavin Davis, a man who is Braden's first boyfriend. Braden is the lead from book 2 in the series Stay.  I should pause here and say that I think this book is best read as a third book in a wonderful male romance series.
Ms. Hart truly used the entire cast to create a world that pulled me in. I love seeing Noah and Cooper from book 1 and I smiled from ear to ear almost every time I got to see Braden, Wes and Jessie from book 2.
The connection Mason and Gavin have for each other was tangible from the first meeting; there two men becoming friends and supporting each other was so enjoyable to read.
I love how Mason and Gavin just fit; their banter and camaraderie was adorable; here is an example of what they sound like together:
"You're rambling. Do I make you nervous?"
"You make me horny," Gavin replied.
"Nervous and horny?" Mason opened the door for Gavin to go inside.
He stopped in front of Mason and said flatly, "Annoyed and horny," before continuing to go inside.
Ah, so Gavin didn't like to be called out on his nerves. Mason barked out a laugh. "As long as there's a horny in there, we're good."
Both men's families played a role in their story, both had visions of what their sons should be and although one family was supportive and the other was not; in the end both men still needed to break free and decide what happy meant to them.
In the end, these men pushed each other to be better people to strive for happy that completed each other.  Gavin finding this true happy showed that although sometimes life takes you in a different direction sometimes that takes you to a happy you never even imagined!
Thank you, Ms. Riley for the wonderful story.
And I must say I absolutely LOVED the epilogue. It not only summed up these men and their connection but the tie to the book title was pure genius!
 ♥READ THE SERIES♥
Book 1 – Collide
Book 2 – Stay
Book 3 – Pretend