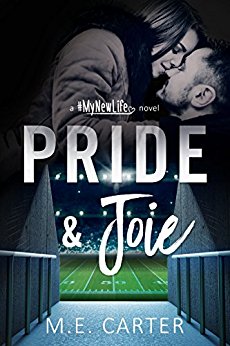 Pride & Joie

on November 10, 2017
Buy on Amazon, Buy on B&N, Buy on iTunes, Buy on Kobo
Goodreads


ONE COUPLE. THREE STORIES. THREE HAPPILY EVER AFTERS.

Joie Stevens put all her dreams on hold the day she became a mom. As a natural caretaker, it never bothered her. But now that her son is grown, she has some new goals in sight and nothing is going to get in her way.

Except maybe an attractive football coach. Who very literally gets in her way.

As assistant football coach for the Flinton State University Vikings, Jack Pride really has nothing to complain about. He has a job he loves and friends he enjoys. Certain he had his one true love in his late wife, the last thing on his mind is dating.

Until he runs into a beautiful non-traditional student. Who he very literally runs into.

This first part of the Pride & Joie trilogy reminds us love can be better the second time around. And that it's not just players in the game…
I loved Pride & Joie, this story kept me engaged, smiling and cheering for this couple's forever happy!
Pride & Joie is the story of Joie Stevens and Jack Pride.
Joie put her life on hold to raise her son—her son who is now in college. Jack is an assistant football coach who thought he would never find love again after losing his wife to cancer.
This book was laced with humor, epic banter and an engaging style that had the reader bearing witness to two adults slowly allowing another into their life.
Jack—wow where to start. This hero was so lovable, he never pushed, never rushed and always respected Joie.
Joie is an untraditional college student finally chasing her dream. This also lead to some very adorable moments not only for her but for Jack as well.
In a cute and subtle twist, Joie is Greg's (from Getting a Grip and Balance Check) sister; if you have not read that duet I highly recommend it as well.
Two adults in their 40's finding love is so different than young love. The author did an outstanding job of weaving past experience with the hope for the future as these two allow love to alter this path just enough to embrace what is in front of them.
This book looks beyond just happy for now and takes you into the living the happy, which isn't easy when two adults have each lived alone and have gotten used to their own way.
The dynamic between Issac, Joie's son, and Jack was outstanding—the push and pull, the evolution over time, the subtle hints that Isaac was slowing accepting him and in the end oh the end.. let's just say my heart was full for this new family that was created! There is one heart to heart between Isaac and Jack that well, you will have no doubt Jack wants to help guide Isaac to his best future.
I want to add that this story might have been 5 stars if the story wasn't a novella then turned into a book. In its current form, it was a bit repetitive likely due to the fact it was reminders for readers who read this as when the chapters were released.