Virtuous, Valorous and Victorious

He's a sexual dominant. She's sworn off sex. There's no way they can make a relationship work—or can they?

After surviving a traumatic event at age fifteen and the ensuing estrangement from her family, Natalie Bryant has worked for years to reinvent herself into the woman she is today—a happy teacher fresh out of college and enjoying her first winter in New York City with her faithful dog, Fluff, by her side. Natalie isn't expecting her life to change completely during a routine stroll through Greenwich Village on a blustery January day. But when Fluff breaks loose and charges into a park, Natalie gives chase and crashes into her destiny. Only after Fluff bites and draws blood from the man who accidentally knocked Natalie down does she realize Fluff has bitten the biggest movie star in the world.

He has no business being enthralled by the gorgeous, young, innocent teacher…

Natalie captivates Flynn Godfrey from the first moment their eyes meet while she is lying on the ground and he's fighting off her ferocious little beast of a dog. The only thing Flynn knows for certain is if he lets Natalie get away, he'll regret it for the rest of his life. After only a short time in her presence, Flynn is prepared to change who he is to be what she needs. He knows he's in big trouble when she says she won't sleep with him and he doesn't care if it means he gets to keep her in his life. But can he turn his back on the lifestyle that has defined him? Can he deny the desires that drive him to give Natalie the introduction to love and romance she so deserves? And most of all, can he keep his truth hidden from her long enough to have forever with her?
The Quantum Trilogy is written by M.S. Force, the erotic alter-ego of New York Times Bestselling author Marie Force.
The first three books in the series (Virtuous, Valorous and Victorious) is the story of Natalie Bryant and Flynn Godfrey. Natalie is a New York City teacher with a past, a dark past that painfully unfolds while being well tied to the story and Flynn is one of the hottest man in Hollywood. Flynn's present is the catalyst for much of this story, his fame and the attention it garnishes felt so true to what so many celebrities go through.
I loved Flynn and Natalie's story; this story is not rushed as it beautifully folds through three books. Life throws these two challenges as secrets are revealed but you will never question the love these two share or their commitment to each other! They love each other fully and support each other.
As Flynn and Nat face challenges, you will find yourself wishing for them to find a way to balance her past with his present toward a forever happy!
It's so odd to be on both character's sides…as this trilogy came to a tipping point, I completely understood why Natalie left and totally understand why Flynn kept the truth hidden. A catch 22 that was extremely well written by MS Force as she has the reader somehow rooting for both characters! I am thrilled to have read these books straight through as I was able to live in the moment with Flynn and Natalie as they worked to hold onto their love.
Flynn is a male lead readers can fall in love with; he adored Natalie, he puts her first, and he supports her through so much as this story unfolds! He does so many acts of kindness throughout this story, they speak volumes to his character. It is clear when you meet his parents that they raised a wonderful man. Flynn's parents were excellent role models and added to the story especially as some of the struggles are faced.
Oh, I loved how the trilogy name played into this one!
I am so happy I was able to read this wonderful story straight through, happy I was able to live in the moment and experience the whole journey with Flynn and Natalie.
This trilogy makes for a great binge read, maybe a long weekend or even a long plane ride; you can dive in and enjoy this beautifully written happy!
I was pleased to see there is a book 4, Rapturous, this one about Flynn's best friend, Hadyen!
I loved Hayden in this trilogy, he always had Flynn's best interest in mind, oh and he has a super hot scene in book 3 but more than that I hope he grabs what he wants, and what he wants is Addie (Flynn's personal assistant).
I should add if you are fan of Marie Force's writing you will really enjoy this. I didn't find these books that much hotter (ok will maybe book 3) than her Green Mountain series and like that series, it has story woven with sex so if you are a fan of her writing 1click as it is sex woven with a wonderful story!
P.S. I also have to add read closely before you dive in as the three books have similar looking names so make sure to start with book 1 (yes I made that mistake on the beach in the sun glare and had to go back).

♥ Read the books  ♥
Book 1 – Virtuous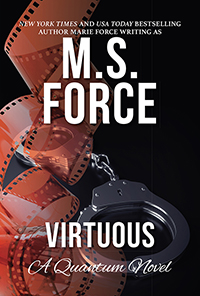 Book 2 – Valorous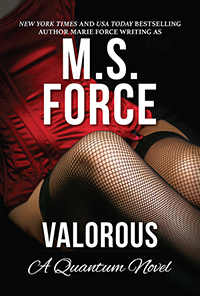 Book 3 – Victorious