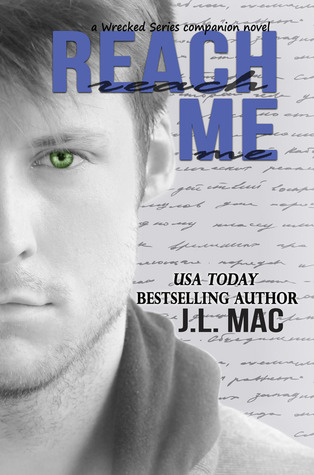 Reach Me

by J.L. Mac
on July 31, 2014
Buy on Amazon
Goodreads


It's a well-known fact that single parenting doesn't allow for much dating. Over the past nine years, Lindsay Fuller's heart has been monopolized by her son, Trey, and she's perfectly content with that.
But with her 30th birthday looming like a black cloud, Lindsay worries that her chances at a happily ever after are next to nil.
After all, she's no sorority girl. She's no supermodel, either. She's a Plain Jane single mom with a less than desirable career, a pen pal obsession, and an extremely overbearing younger brother.
Financial trouble sends Lindsay's already hectic life into a tailspin, setting events in motion that will change everything, namely her "single" status. Learning to reach for what she wants catalyzes an epic internal struggle that she has no hopes of overcoming.
The question is, will Lindsay give love a shot; and, more importantly, will it be worth it?
Happy Release Day to J.L Mac and her new book REACH ME!
Everyone knows that I adore J.L Mac and her Wreck Me series. This is a short novella about Brian's sister Lindsay. Brian is a character from the Wreck Me Series and though this book can be read as a standalone, I feel that you need to read the Wreck Me series in order to get the full effect of this cast of characters and to better appreciate their relationships and the story.
Lindsay hasn't had much luck in the guy department being left pregnant and alone by her college boyfriend. She has had to raise her son Trey on her own, never earning her degree and working hard to provide for her son.  Her one constant in her life besides the support of her family and her best friend Maggie is her online friend Russ, who she has been been messaging for 9 years. Understandably, Lindsay has never taken a step further to meet him face to face because of her fear of letting someone get to close to her again and potentially her heart.
Without revealing too much as this is a novella….so as Lindsay experiences more hardships in her life and when secrets are revealed and we get to know Russ a little more, will Lindsay be able to move beyond her reluctance for a relationship and help to find her HEA that she so obviously deserves?
Unfortunately we will have to wait until the 2nd part of this novella to find out! Ugh!
While I continue to love J.L's writing style, her characters and of course the sexy sweet that she always delivers on, I would have preferred to have this novella be a complete story for Lindsay. Of course I will be reading part 2 but I think it would have added a bigger punch and would have been an even MORE enjoyable read for me if their story was complete.
I am a sucker for J.L. Mac books so I will do my best to wait patiently for the next installment 🙂
Fabulous writing and detail as always <3
♥READ THE SERIES THAT STARTED IT ALL!♥
Book 1 – Wreck Me
Book 2 – Restore Me

Book 3 – Accept Me