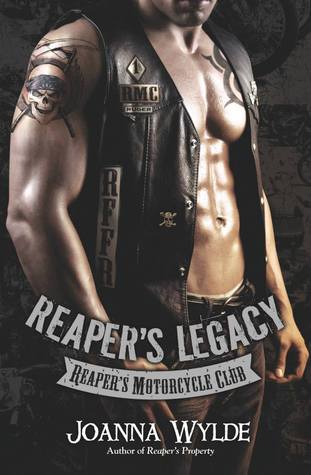 ---

WELCOME TO THE CLUB
Eight years ago, Sophie gave her heart—and her virginity—to Zach Barrett on a night that couldn't have been less romantic or more embarrassing. Zach's step-brother, a steely-muscled, tattooed biker named Ruger, caught them in the act, getting a peep show of Sophie he's never forgotten.
She may have lost her dignity that fateful night, but Sophie also gained something precious—her son Noah. Unfortunately, Zach's a deadbeat dad, leaving Ruger to be Noah's only male role model. When he discovers Sophie and his nephew living in near poverty, Ruger takes matters into his own hands—with the help of the Reapers Motorcycle Club—to give them a better life.
Living with outlaw bikers wasn't Sophie's plan for her son, but Ruger isn't giving her a choice. He'll be there for Noah, whether she wants him or not. But Sophie does want him, has always wanted him. Now she'll learn that taking a biker to bed can get a girl dirty in every way…
From the moment I read this book blurb a few months ago, I wanted to read this book!
Mind you I did not read book 1, the blurb was that compelling and I am happy to report the book did not let me down.
This book starts off right out of the gate and does not stop!  Sophie and Ruger's lives intertwine with a very unique set of circumstances ones that ties them together and will have you loving Ruger's dedication.  Yes, I am trying to be vague because I want you to experience the first few scenes as I did – raw and layered with emotion.
As Sophie's life takes a path she never imagined for herself, it is Ruger that Sophie can always depend on. Reapers Motorcycle Club and Ruger prove early on that despite Sophie's opinion of them; they care for their own and will go anything, anything to protect Sophie and provide for each other.
As the storyline moves forward, I adored seeing how Ruger was always there for Sophie, his connection to her was tangible to the reader even if it was something Ruger couldn't admit to himself.
I really enjoyed how there was hints of what happened in the future, and I loved how Ms. Wylde slowly unraveled the story for the reader and when Sophie finally tells Ruger the full story, it was so well done both for the reader and for the couple in the book.
Sophie and Ruger's connection was one with an amazing depth, beyond sexual attraction something layered with friendship wrapped around a desire to raise Noah (Sophie's son). I am so not sure what you call that except a recipe for long-term happiness well that is if Ruger can get his head wrapped around the fact that having one woman, the right woman in his life will make him happier than he ever imagined.
Yes, so that line hints at it… Ruger is manwhore… though it took me sometime to truly fall in love with him, when Ruger finally gets it, the scenes are powerful and I truly love the happy that came from this journey for Sophie and Ruger (and Noah).
At the end of this book, the use if Ruger's ink was outstanding! One of the best I have read.
Powerful, compelling and truly speaking to the depth to which Ruger felt connected to Sophie for years, years before he even admitted it to himself.
Thank you Ms. Wylde for a journey to happy that felt real and perfect for these two who worked so hard to find the perfect happy for them.
Please note as I said above I read this book stand alone and had no issues understanding or loving the story!

 Joanna Wylde is a freelance writer and voracious reader.
---
Series Reading Order
Book 1 – Reaper's Property

Book 2 – Reapers Legacy