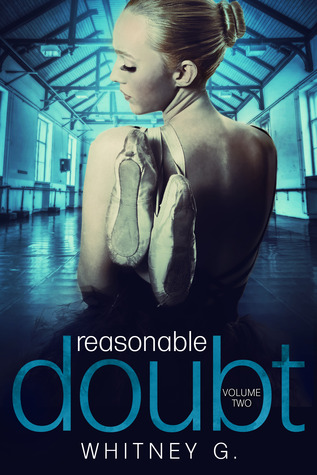 She lied to me…
She betrayed the one rule that I'm most adamant about: Honesty. Complete and utter fucking honesty.
I really wish she was someone else—someone who didn't have the ability to make me feel, someone I could easily discard like the hundreds of women before her.
She isn't.
I'm drawn to her like I've never been drawn to a woman before—completely captivated by the very sight of her. But unfortunately, with my past slowly re-surfacing for all of the world to see, I'll have to find a way to let her go.
She can never be mine.

Christine's 4.5 STAR Review!!!
Continuing with my trend of reading serials, this one has really been my all time favorite.  I have been dying to read this one as I have been curious as to Andrew's past and what makes him who he is.
And can I say that Whitney sure doesn't disappoint.
Volume 2 was so much more than what I expected it would be.  In my opinion though Andrew and Aubry try to deny each other, they are insatiable for each other and in my mind a perfect match.  I find myself running the gamut of emotions with this book – smiling, swooning, fanning myself and of course sadness because my heart is breaking for these two have hold a place in my heart and mind.
With the unraveling of secrets and learning the truths of this man, I could see the wonderful man Andrew could be but won't allow himself to be or go there with his heart again (understandably so).  But at what cost for himself and Aubry?
Well written and descriptively delicious and sexy, this was hard to put down and I devoured it until the end and am again left wanting more…hopefully we don't have too long to wait!  Once this serial is complete, I do look forward to go back and read all together because I truly love this one and think you will too!

A self diagnosed candy addict, travel junkie, and hypochondriac, Whitney Gracia Williams LOVES to write about characters that make you laugh, cry, and want to (in the case of Selena Ross) reach through your Kindle and slap them.
She is the "imaginary bestselling" author of the Jilted Bride Series, Mid Life Love, Wasted Love, and Captain of My Soul.
When she's not locked inside her room, feverishly typing away on her laptop, she can be found here:
http://www.whitneygracia.com
She also loves getting emails from her readers, so if you want to tell her how much you loved (or hated) her stories, email her at whitgbooks@gmail.com!
Series Reading Order
Book 1 – Reasonable Doubt Volume 1

Book 2 – Reasonable Doubt Volume 2