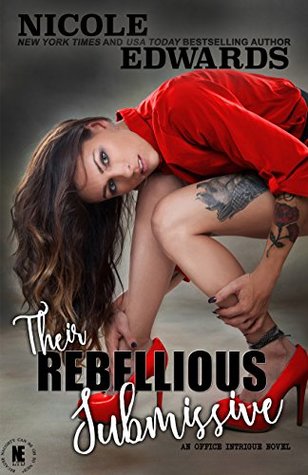 Their Rebellious Submissive

by Nicole Edwards
on January 23, 2018
Pages: 433
Buy on Amazon, Buy on B&N, Buy on iTunes, Buy on Kobo
Goodreads


Have you ever wanted something so badly that you would do just about anything to get it? Have you felt as though you weren't quite good enough, so you deserved what life eked out? So much so that you've endured things you knew were wrong, but weren't sure what to change to fix it?

If you have, then you're very much like me.

Perhaps you were hanging by a thread, trying to be grateful for the things you did have, but hating every moment all the same. That was exactly how I'd been living my life, suffering for reasons I couldn't explain. I wanted something I couldn't seem to find, something I doubted I deserved.

Until one day, I was in exactly the right place at the precisely the right time…and they were there.

That was the moment everything changed.

Publisher note: This is a full-length, standalone novel. It is part of the Office Intrigue series, however, it can be read as a standalone.
Their Rebellious Submissive is book 3 in the Office Intrigue series by Nicole Edwards. Warning this book… or rather this series is very hot… so if you like your books hot—jump right it!
This book takes place a few months after the end of book 2 and finds Justin and Ben stumbling on a submissive—Addison is some trouble. I won't go into detail but I will say I adored how this scene helps the reader understand what a good Dom is and what one is NOT.  I also liked how this scene pulled through much of the book playing into the dynamic between Addison and her men—how she will allow them to be her Doms (Justin and Ben).
Justin and Ben are men who from almost the moment I met them in book 1 and most certainly as books 1 and 2 played out had my heart hoping we would get a complete happy to them. Mr. Parker (Justin) and his submissive have a deep bond but they know they want more and that more is a submissive for Ben (yes the man who is a submissive to Justin). You see Ben is a switch and the author's handling of this was wonderful!  Addison asks many questions about this offering the reader insight and Ben's POV allows the reader to see life isn't really black and white but the happy is in the middle.
These three work together and play together and yes that boundary takes some time for all involved to get used to.  How they come to accept and trust each other has me knowing these three truly complete each other!
Oh P.S. I loved the look at Luci and her twin masters, Landon and Langston!
The author lets the reader know that though she never intended for the first story to become a series that this will become a menage only series! Yes, I was super excited to read this and I truly hope Master Zeke is next… what I am hoping is a "hint" at his happy has me super excited!