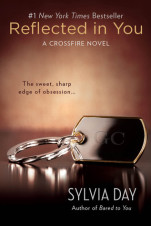 5 STARS!!!
Summary
Gideon Cross. As beautiful and flawless on the outside as he was damaged and tormented on the inside. He was a bright, scorching flame that singed me with the darkest of pleasures. I couldn't stay away. I didn't want to. He was my addiction.  My every desire.  Mine.  My past was as violent as his, and I was just as broken. We'd never work.  It was too hard, too painful except when it was perfect.  Those moments when the driving hunger and desperate love were the most exquisite insanity.  We were bound by our need. And our passion would take us beyond our limits to the sweetest, sharpest edge of obsession.
Christine's  Review
So I just finished reading Reflected in You for the 2nd time this week and I LOVED IT!  RiY picks up right where we left off in Bared to You.  Eva and Gideon seem to be more connected and in love.  They are learning to be in a real relationship yet continue to struggle with truth and trust.  Yes, there are still the issues of insecurities, communication and their past but reading about these two together – you cant help but root for them to make it work.  There is intense jealousy, obsession and passion.  No two love scenes were alike – Sylvia Day has quite the imagination and boy is it HOT!  This relationship is SO intense and emotional that I could not put this book down.  But Sylvia Day has a true gift in her writing to allow the reader to feel their happiness, frustration, and sadness.  There were parts that were definitely hard for me to read.  When Gideon was pushing Eva away, I just wanted to beat him down and drag him back and talk sense into him.  My emotions were so strong because he was breaking my heart at the same time he was breaking Eva's.  And that's what makes Sylvia so great – that we experience the story as if we were characters in the book too.
I felt that a lot of questions were answered but there are some that still remain.  I did appreciate that I learned more about Gideon in this book and understand a little more why he is the way he is.  I LOVE that his love for Eva is so powerful that he will do anything to protect her.  This is something that we all wish for!
I CAN NOT wait until the final part of this trilogy.  This is a series that I will never forget nor get tired of reading.  Well done!
About the Author
Sylvia Day (aka S. J. Day and Livia Dare) is the #1 New York Times and #1 international bestselling author of more than a dozen award-winning novels translated into over three dozen languages. She has been nominated for the Goodreads Choice Award for Best Author and her work has been honored as Amazon's Best of the Year in Romance. She has won the RT Book Reviews Reviewers' Choice Award and been nominated for Romance Writers of America's prestigious RITA® award twice.
Twitter SylDay
Website http://www.sylviaday.com
Facebook https://www.facebook.com/AuthorSylviaDay?ref=ts&fref=ts