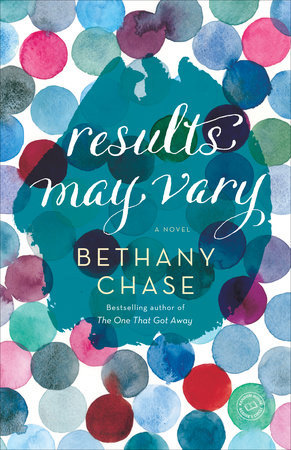 Results May Vary

by Bethany Chase
on August 9, 2016
Pages: 336
Buy on Amazon, Buy on B&N, Buy on iTunes, Buy on Kobo
Goodreads


She never saw it coming. Without even a shiver of suspicion to warn her, Caroline Hammond discovers that her husband is having an affair with a man—a revelation that forces her to question their entire history together, from their early days as high school sweethearts through their ten years as a happily married couple. In her now upside-down world, Caroline begins envisioning her life without the relationship that has defined it: the loneliness of being an "I" instead of a "we"; the rekindled yet tenuous closeness with her younger sister; and the unexpected—and potentially disastrous—attraction she can't get off her mind. Caroline always thought she knew her own love story, but as her husband's other secrets emerge, she must decide whether that story's ending will mean forgiving the man she's loved for half her life, or facing her future without him.
I absolutely LOVE Results May Vary by Bethany Chase!
Two people who met while they were young and in high school, who got married and had this seemingly perfect life only to be broken by an affair. And not just any affair which is already heartbreaking in itself, but an affair with a man!
This is my first Bethany Chase book and won't be my last (Thanks to Megan from Reading Books Like a Boss for another great recommendation).
What I loved about this story besides the premise, the emotional feelings that the author evoked in me and this woman's journey to finding herself again – I loved the way they author made Caroline's home in Massachusetts, the artwork, the secondary characters all felt so real and so necessary for the story to progress.
I went to college in Western Mass (UMass Amherst) and while reading, I could see the beautiful locations in my mind and smell that amazing fall day in those beautiful towns. I could see vividly in my mind the artwork that Caroline worked so hard to champion and above all else, I loved the secondary characters – her sister Ruby and best friend Jonathan, her co-worker Neil – all people Caroline needed in her life to heal, to put a smile on her face when she was lost and to help her move forward.
Yes, there is some romance in this story and that hope that this woman who was hurt so badly to be able to find healing and strength again; to find herself and who she once was outside of her marriage but the overall message of this book is the growth, the possibilities for the future and that yes, you can find love at a young age and sometimes it may not work as you had hoped but its that journey to start over, to be true to yourself, for your heart to grow again and to be able to find trust again that really stole my heart.
What a gem of a book! I am so happy that I was able to sneak this read in among my crazy TBR list! <3
I know I am rambling but just read it – this author reminds me of Taylor Jenkins Reid (another author I LOVE) and I am looking forward to reading more from her!