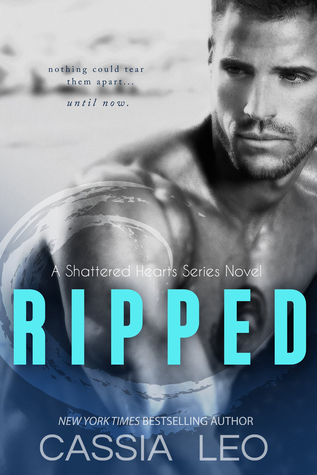 Ripped

by Cassia Leo
on October 9, 2015
Pages: 250
Buy on Amazon
Goodreads


Adam Parker, sexy surfer with a heart of gold, is back to tell his story in RIPPED, a spin-off novel from the New York Times bestselling Shattered Hearts series.

Adam has had his heart ripped out before. But there's nothing he and Lindsay haven't been able to overcome. Nothing that could tear them apart… until now.

After seven years of competing, Adam is at the top of his game in the surf world. But troubles at home have forced him to consider retiring earlier than expected.

With the possibility of a final competition in his future, the pressure is on Adam to perform; to leave on a high note. Long hours practicing at the beach only causes more turmoil between him and Lindsay. Until finally, the stress reaches a boiling point and someone gets burned.
Ripped is on a limited time 2 day SALE for $.99! One click today!
Cassia knows that from the get go that I was always a Chris Knight fan. But there was a little piece of my heart that always held a special place for Adam. Ripped was the perfect conclusion for Adam fans in my opinion.
Without revealing much of what happens because I think that this is more enjoyable to read on your own…Ripped takes the readers on Adam's journey AFTER Chris and Claire. This is his story of his marriage to Lindsey while juggling his surfing career and having children.
And let's speak the truth…marriage is hard work,  sacrifice  and compromise and I enjoyed reading Adam's story to see how he has grown since we first met him but how he still has his his trademark funny man jokes and positive energy …and of course he is still sexy as hell!
Cassia Leo knows how to write stories that pull you in. She introduced us to these characters and yes, though there was a love triangle in the beginning, the reader finally gets to experience a happily ever after for all.
Cassia made me love Adam a little more with his jokes that had me smiling but also because she shows us a man who will put his family above all else.
Learn how to fail gracefully, then get up and try again.
♥READ THE SERIES ♥
Book .5 FOREVER OURS
http://amzn.to/1shNuwL
Book 1. RELENTLESS
http://amzn.to/1x0WE1I
Book 2. PIECES OF YOU
http://amzn.to/1rgx1VY
Book 3. BRING ME HOME
http://amzn.to/1qn1DB7
Book 4. CHASING ABBY
http://amzn.to/1udqOxM
Book 5. ABANDON
http://amzn.to/1VMYzPB
Book 6. CHASING ABBY
http://amzn.to/1VMYDil
Book 7. RIPPED
http://amzn.to/1VMYifv