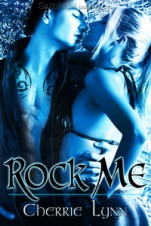 4 Stars!!!
Summary
Loving him couldn't be worse than losing him. Could it?
Candace Andrews has had enough of pleasing others. In an act of birthday rebellion, she sets out to please herself—by walking into the tattoo parlor owned by her cousin's ex-boyfriend. All she wants is a little ink, and Brian's just the guy to give it to her.
As soon as she submits to his masterful hands, though, the forbidden attraction she's always felt for him resurfaces…and she realizes the devilishly sexy artist could give her so much more.
Sweet, innocent Candace is the last person Brian expected to see again. She's everything he's not, and her family despises him. He doesn't need the hassle, but he needs her, and this time no one is taking her away. Not even those who threaten to make his life a living hell.
Backed into a corner, Candace faces the worst kind of choice. Cave in to those who think Brian is a living nightmare…or hold her ground and risk it all for the one man who rocks her world.
Warning: This book contains explicit sex, naughty language, tattoos aplenty, family drama, a hot rock concert…and a bad boy hero who's pierced in all the right places.
Denise's Review
Great Read! ROCK ME puts a twist on the classic bad boy meets good girl story. Brian Ross is a bad boy but he is a bad boy from a wealthy and prestigious family. The black sheep – he's in the shad
ow of his successful lawyer brother, Evan (whose story can be found in Unleashed).
When the very good girl Candace Adams makes the decision to get a tattoo, she goes to Brian Ross, her cousin's ex-boyfriend. Candace had a secret crush on Brian since he dated her cousin.
The author does a great job detailing how the sparks ignite during this encounter. Candace is more than just a good girl; she is controlled by her family, they control all aspects of her life.
The connection between these two is powerful. The book tells the story of the struggle for Candace to push against her family and Brian's journey from irresponsible black sheep to business owner (tattoo parlor) and trusted partner.
Brian was a strong individual. I loved seeing his back story (which was skillfully layered in) on how he pushed back against his family, overcame a troubled childhood, carved out his niche in the world and how he still struggles to exorcise his demons. His interactions with his older brother Evan were very realistic and heart-warming. I would recommend you to read Evan's story first, as these two brothers' relationship evolves over the two books and was one of the most enjoyable parts of the book. Well, that and the hot scenes Cherrie Lynn wrote.
ROCK ME was a fun read, the pages flew by, and the connection between Candace and Brian were sensual and emotional. It's definitely not an easy combination to pull off, especially when the two in the relationship have such different sexual experiences. Think untouched good girl with a bad boy with piercings 🙂
I really enjoyed ROCK ME and hope to see more of Candace and Brian as Ms Lynn continues to write.
PS – you can find more of Candace and Brian in Cherrie's Christmas short Light Me Up!
About the Author
Cherrie Lynn has been a CPS caseworker and a juvenile probation officer, but now that she has come to her senses, she writes contemporary and paranormal romance on the steamy side. It's *much* more fun. She's also an unabashed rock music enthusiast, and loves letting her passion for romance and metal collide on the page.
When she's not writing, you can find her reading, listening to music or playing with her favorite gadget of the moment. She's also fond of hitting the road with her husband to catch their favorite bands live.
Cherrie lives in East Texas with said husband and their two kids, all of whom are the source of much merriment, mischief and mayhem. You can reach her at cherrie@cherrielynn.com, at the various social networking sites, or right here. She loves hearing from readers!
Twitter cherrielynn 
Website http://www.cherrielynn.com