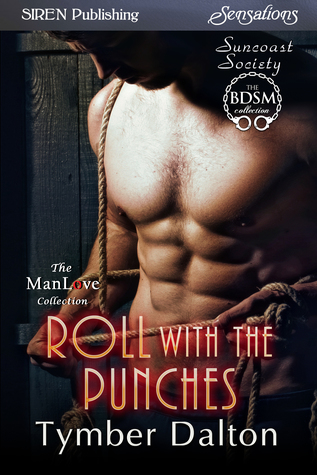 Roll with the Punches

by Tymber Dalton
on July 24, 2017
Pages: 241
Buy on Amazon, Buy on iTunes, Buy on Kobo
Goodreads


Stuart has no regrets about his new life with Brandon and Jeff. For the first time, he feels he's exactly where he's supposed to be, with a family who loves him for who he is. Even despite the craziness with Brandon's ex, it's all worth it.

Jeff knows this is for life with the two men and has never felt happier. When a mission to help his sister's friend leads to an unexpected health crisis with an uncertain outcome, he is forced to admit he's also vulnerable in ways he never imagined, both physically and emotionally.

Brandon gets that his ex has issues, but he won't let those stand in the way of him and his husbands parenting Emma, his teenaged daughter. Jeff and Stuart have proven they're there for life.

Now their sanity is stretched to the max in ways they never imagined by a horrific truth—they're raising a teenaged daughter who's starting to date.

Note: This is a direct sequel to Heartache Spoken Here.
Please do NOT read Roll with the Punches until you read Heartache Spoken Here. You do NOT need to read any other prior books in the series. As I have said before, I love that I can jump in and out of this series as a blurb grabs me.
Roll with the Punches is a sequel that allows the reader a heartfelt and yes HOT look into the lives of Stuart, Brandon, and Jeff. This male trio faces a number of challenges—some unique to the fact they are a menage, some simply about living life and some having to do with the fact Stuart has a teenage daughter.
I am going to hold on this point for a moment and say WOW, just WOW, the use of Stuart's daughter Emma was outstanding! Emma and the men becoming a family, Emma as a teenager doing teenager things (insert lying to adults), Emma as a catalyst to show the deep devotion these men have for each other—all these things elevated this book to more than just a hot read (which I find is so often the case with Ms Dalton, she masterfully weaves emotions into stories with hot sex).
The issues around Jeff unfolded in a way that kept me glued to my kindle. In the end, they spoke to the depth of the bond these men have developed and reminded the reader that hot sex is great but love—love is about being there through the good and the bad!
I am so happy these men continued to speak to Ms. Dalton. I truly loved spending more time with them.
I have no doubt though unconventional that Stuart, Jeff, and Brandon were meant to be together. They complete each other and balance each other out.
I should also note Heartache Spoken Here does not have a cliffhanger. This book is a look into the happy, a look into living life and all it throws at you. The book is about love, loving and being together through thick and thin.