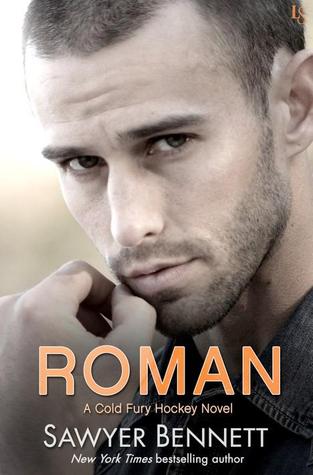 Roman

on February 21, 2017
Buy on Amazon, Buy on B&N, Buy on iTunes, Buy on Kobo
Goodreads


New York Times bestselling author Sawyer Bennett steams up the ice all over again as the Carolina Cold Fury hockey team's hottest bad boy gets his first taste of something good.

In a league full of troublemakers, Cold Fury defenseman Roman Sýkora stands out—at least when it comes to negative publicity. When he's not chilling in the penalty box, the sizzling Czech skate demon is racking up tabloid headlines for his scandalous behavior with the ladies. But now Roman's feeling the burn from management to clean up his act, or else. Luckily he's got an enticing distraction: a fun-loving barista who plays the ukulele and brings out a side of Roman he didn't know he had.

Lexi Robertson came to Raleigh, North Carolina, to finally meet her father, Brian Brannon, and her half sister, Gray, both of whom work in the Cold Fury's front office. That's where she first meets sexy, intimidating Roman—who's really a big softie at heart. As one relationship takes off, another begins: Brian seems to be clicking with Lexi's boss at the coffee shop. But when the friction between Roman and her new family heats up, Lexi wonders whether she's a pawn in their game. Feeling hurt and foolish, Lexi's ready to quit while she's ahead. Trouble is, Roman's not ready to quit on her.
As I said in my Max review, Roman is a 5 star read! This one runs a very close second to Ryker who by the way you see a ton of in this book. Why you might ask? Well with poetic mastery Ms. Bennett weaves Roman's love interest Lexi into the Branson legacy.
The blurb reveals to the reader that Lexi is Brian Brannon's daughter; making her Grey's half sister soooooo lots of Grey and Ryker in this one!!
How Roman and Lexi meet and then run into each other again flowed perfectly with the story and crafted a storyline that kept me glued to my kindle! I was so thankful to have downloaded a copy of this book just prior to a long car ride allowing me to live in this world for hours; which is fine because I am not sure you could have pulled my kindle from my hands!
The author did an amazing job with Roman's backstory, it really allows you to understand who he is when you meet him and why he is almost distant; he doesn't understand relationships of any kind, he has been on his own for so long. Having said that, his reaction to Lexi is pure and makes you believe he now understands the value having others in your life can add.
This book is a complete story, Ms. Bennett pushed these characters; forced them to look within; due to circumstances and situations many never imagine they really have to decide what does happy mean and how badly do they want to be happy!
I will not ruin the third POV or say who it is but I will say woohoo the second love story! I love how it was woven through this book, it added to the story and kept me wanting more of it as I wanted more Roman and Lexi. This character POV goes beyond just finding love, his life is changed and hearing from him really flowed with the primary love story.
And OMG I have been dying for this character (this third POV) to get his happy and WOW is his happy perfect for him! Ok so if you know me and have witnessed my love of this series you will easily guess who the male lead is!
Oh and the female love interest is hysterical, a true character and the perfect fit! It's killing me not to share more lol!!!
In the end there was no doubt that Roman wants Lexi, that he wants a happy, a happy he never imagined and that he would give up anything to have her as the center of his life!
And now I have to say I can't wait for LUCAS next!
P.S. this is the first book in the series I would not recommend as a standalone; I think you need to read Ryker to truly appreciate the awesomeness that is Roman!
♥ READ THE SERIES ♥
Book 1 – Alex
Book 2 – Garrett
Book 3 – Zack
Book 4 – Ryker
Book 5 – Hawke
Book 6 – Max