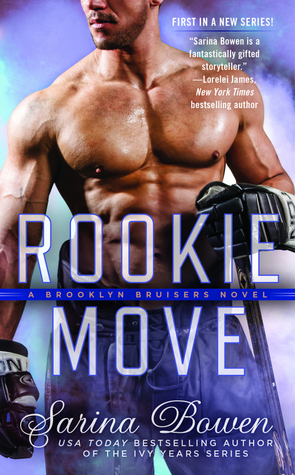 Rookie Move

by Sarina Bowen
on September 6, 2016
Pages: 336
Buy on Amazon, Buy on B&N, Buy on iTunes, Buy on Kobo
Goodreads


The first novel in a sexy new series featuring the hockey players of the Brooklyn Bruisers and the women who win their hearts—from the USA Today bestselling author of the Ivy Years series.

In high school they were the perfect couple—until the day Georgia left Leo in the cold...

Hockey player Leo Trevi has spent the last six years trying to do two things: get over the girl who broke his heart, and succeed in the NHL. But on the first day he's called up to the newly franchised Brooklyn Bruisers, Leo gets checked on both sides, first by the team's coach—who has a long simmering grudge, and then by the Bruisers' sexy, icy publicist—his former girlfriend Georgia Worthington.

Saying goodbye to Leo was one of the hardest things Georgia ever had to do—and saying hello again isn't much easier. Georgia is determined to keep their relationship strictly professional, but when a press conference microphone catches Leo declaring his feelings for her, things get really personal, really fast....
Denise and I LOVE ice hockey…especially because our sons all play travel ice hockey and that's how we first met! Truth be told, Denise has read many more hockey books than I have and this is also my first Sarina Bowen book to date so I was really excited to dive into this book. I really enjoyed Rookie Move, the first book in a new series by Sarina Bowen about the Brooklyn Bruisers Ice Hockey team!
So people who know me know I absolutely LOVE second chance romance stories. Leo Trevi and Georgia Worthington knew each other as teenagers in high school and dated. Everything about them was perfect until the day that Georgia walked away.
Six years later Leo and Georgia come face to face again as Leo has just joined the Brooklyn Bruisers as their new rookie player and Georgia is the interim head of publicity for the organization.
While Georgia wants to keep everything strictly professional, readers will know off the bat that Leo still has feelings for his old flame despite how everything ended so abruptly. Leo is the epitome of a book boyfriend – kind, sweet, respectful and ALL HEART.
And while I loved Georgia being a strong heroine; knowing what she wants with her career and being level headed and strong, it took some time for me to warm up to her.
I think that this is where the book fell short for me…With these two reconnecting after so long, I just wanted more – more connection, more emotion. I loved Leo's drive to prove himself to his new team, to his coach and his feelings for Georgia. I think their reactions to what happened in their past was glossed over quickly and should have been discussed more. I also didn't love Georgia's dad's reactions to Leo especially since it was his daughter who ended things and walked away initially. Unfortunately while the book had so many sweet things happening throughout, I did find myself bored at times. I just wanted something more.
What I did enjoy was a look at the team – The Brooklyn Bruisers themselves. Each of the secondary characters sparking an interest in me that I wanted to know more about them, what their stories would be and if they would find their own women for a happily ever after.
So while this book was just ok for me, it was definitely a good start to the series and definitely makes me want more. Readers who love ice hockey (or any kind of sports romance for that matter), some heat in their love stories, a relentlessly sweet hero and a second chance at love should pick up Rookie Move.