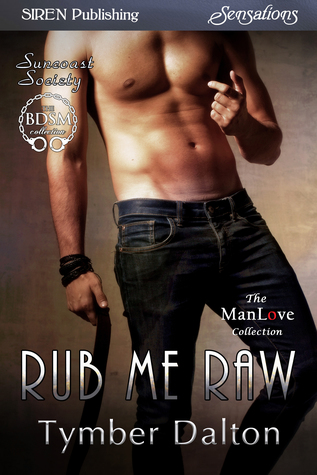 Rub Me Raw

by Tymber Dalton
on June 12, 2017
Pages: 164
Buy on Amazon
Goodreads


Tired of being an object instead of a partner, Simon forces his ex to move out after hitting his emotional limit and realizing the man only wants him for wank fodder. An introduction to Victor by friends helps Simon shut the mental door on his ex for good and long to explore all the delicious Domly things the handsome realtor wants to do to him.

Victor moved to Florida for a fresh start far away from his ex. He's looking for an open and honest subby guy. His instant, scorching attraction to Simon is only intensified by the fact that he can actually get some decent sleep for the first time in weeks when with the man.

But spooky events and shocking revelations force Victor to move from his temporary digs and in with Simon. Now, it's make or break time. Can Simon handle Victor full-time in full-on Dom mode, or will both men be rubbed emotionally raw yet again?
Rub Me Raw is easily read as a stand alone—one of things I love most about this series is the ability to pick up a book when the blurb grabs me as this one did!
I loved Simon Hall and Victor Dumont's story, this m/m BSDM romance was so well done!
Simon and Victor are adults with careers and both have been burned by ex's. The author has the reader feeling the connection these two have and has the reader knowing each is what the other was missing in their life.
I loved how Simon and Victor were introduced to each other and I was so pulled into this story from the moment I opened the book, the build up, the communication—yes these men talking to each other kept me engaged and rooting for these men to be each other's forever.
The event that pushes these two closer was really well done, it tied together well and keeps the reader on the edge of their seat for a bit (nope not telling read the book).
In the end, the happy Vic and Simon find is a perfect one for them—both can live their lives in the open and behind closed doors they made a well suited pair!
Ms. Dalton masterfully weaves some humor into this BDSM story and I so loved that! The sex is fun but also hot, and in this case both partners unlike in their prior relationships get what they need (this will make more sense when you read the book I promise).
I want to pause here and say that this is one of the things I love most about this author—she so often makes it very clear what each character gets from the dom/sub relationship. The reader is really allowed to understand the dynamic and in the end that is so much of what makes a great book for me—being in the character's mind and understanding what drives them!
The chemistry Simon and Victor have is off the charts. I can't remember the last book I read where the connection between the two main characters was so tangible. This story was believable, heartwarming, and HOT!
Ms. Dalton, I am so loving your gay romance stories. Thank you for writing this one.