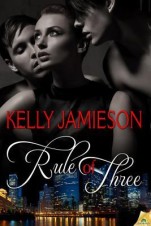 5 STARS!!!
Summary
If you follow the rules, you miss all the fun…
Kassidy is a good girl who wants to be bad. Dag is a bad boy who is very, very good. And Chris? He likes to watch…
When wicked-sexy Dag returns to Chicago to catch up with his old college buddy Chris and meet The Girlfriend, none of them are anticipating the unexpected turn of events that switches a loving twosome into a scorching hot threesome. As old feelings resurface, and new attractions are explored, a storm of sexual sparks is unleashed that leads them into forbidden areas.
Always the good girl, Kassidy blossoms under the attentions of two loving men, but neither she nor Chris are expecting the ménage to take a quarter turn toward Dag…and his feelings for Chris. When it's revealed that Dag's attraction to Chris is one big reason he left town, a tangled mess of old hurts and new feelings might destroy friendship. Love.  Might destroy everything.
Product Warnings
This book contains a couple already in love, a couple falling in love and a couple in love who didn't know it; also multiple scorching sex scenes including girl with boy, girl with two boys, boy with boy and two boys with girl…whew!
Denise's Review
This was a wonderful book….. Kelly did a great job developing each character… she even laid out some of their personal growth and what made them who they are.
The book starts with an existing couple. Kassidy and Chris… they are in love and starting to build a life.  The passion develops when you first open the book.
Then Dag comes to visit…….Chris college "wingman," who he has not seen in years.
Kelly does was amazing job showing their bonds. It is very engaging to watch Kassidy's attraction to Dag develop, she can see her struggling as she is loyal and monogamous. Her discovery that Chris "like to watch" starts a journey in motion that on one predicts and that threatens to hurt all involved. Kelly did a great job portraying the emotions; especially Kassidy's struggle and Dag's feelings of wanting what he thinks is unattainable. I really enjoyed the books interactions with border topics; there are a few politic and philosophically exchanged between the characters that shed a lot of light into their thinking.
It is probably worth noting that the book is HOT, the scenes are passionate, descriptive and so raw you can feel the emotion! MsJamieson did an amazing job with Chris; she make his struggle feel real… and as he came to terms with his own feelings your heart aches for him!
I was pleased the Kelly had the the characters admit there would be complications and that Chris was the first to say they need to speak up so people would know Dag was important and loved!  They didn't have all the answers, but again I liked that Kelly Jamieson had the characters think out loud about them….
Do wish there was an Epilogue, especially because during the book each character develops a relationship with Kassidy's parents.
After I read this; I went back and re-read the last few chapters again; it was that GOOD!!!
About the Author
Kelly Jamieson writes romances with heat that's sweet. Her writing has been described as "emotionally complex", "sweet and satisfying" and "blisteringly sexy". If she can stop herself from reading or writing, she loves to cook. She has shelves of cookbooks that she reads at length. She also enjoys gardening in the summer, and in the winter she likes to read gardening magazines and seed catalogues (there might be a theme here…) She also loves shopping, especially for clothes and shoes. But her family takes precedence over everything else (yes, even writing). She has two teenage children who are the best kids in the world, not that she's biased, and a wonderful husband who does loads of laundry while she plays on the computer writing stories. She loves hearing from readers, so please visit her website at www.kellyjamieson.com.
Website http://www.kellyjamieson.com