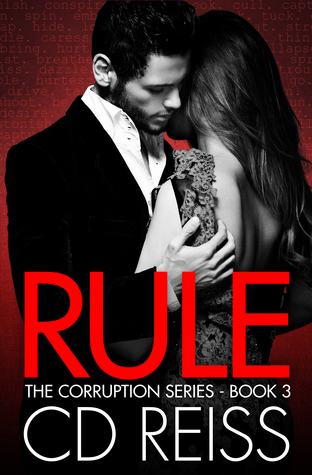 Rule

by C.D. Reiss
on August 25, 2015
Buy on Amazon
Goodreads


Book Three in The Corruption Series. You must read SPIN and RUIN before reading RULE!

Theresa and Antonio.
They've been through hell. Antonio has a price on his head for turning his back on a marriage deal, and Theresa has no intention of turning her back on him. They're devoted and strong, ready for anything....

A Love Tested To The Limit
And then, someone from Antonio's past reappears. Someone who can give him everything he ever wanted, and who can shake them to their very core.

#livetogether
#dietogether

In this stunning conclusion to the USA Today Bestselling series, Antonio and Theresa will have their passion, their devotion and their very will to live tested.
Rule is an intense journey and fans of this series should get ready to experience the aftereffects of what happens at the end of Ruin. This is a MUST READ series from one of my favorite authors.
Antonio and Theresa have been through so much and Rule is the ultimate fight that these two will face against their enemies, the battle against the danger of being in this corrupt world that threatens not only their love but their lives and families, and the twists and turns that will ultimately help this couple find the peace that they deserve.
I enjoyed the suspense and intrigue surrounding this couple, the fast paced action with every turn of the page but above all else, I LOVED the connection between the Capo and his Contessa. Theresa's loyalty and fierceness with regards to her Capo and his protectiveness, love and ruthlessness with regards to the woman he loves.
Readers looking for a captivating read, where the author builds a world with suspense and sexiness that is so descriptive that you feel that you are watching a movie, where the characters experience such growth that will touch your souls, and where you experience every emotion that you feel you will burst should look no further than C.D. Reiss books – she masterfully creates such EPIC stories that it makes your reading experience with every book simply unforgettable.
♥READ THE SERIES♥
Book 1 – Spin
Book 2 – Ruin
Book  3 – Rule