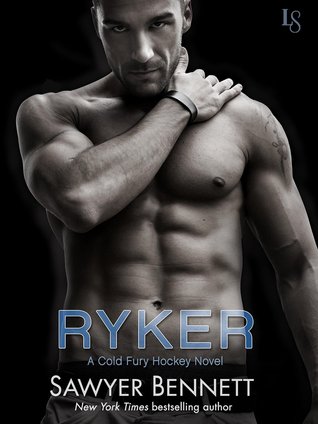 Ryker

by Sawyer Bennett
on September 8, 2015
Pages: 269
Buy on Amazon
Goodreads


The rugged men of the Carolina Cold Fury hockey team are winning hearts once again in another scorching novel from New York Times bestselling author Sawyer Bennett.

The stakes have never been higher for Carolina Cold Fury goalie Ryker Evans. With his contract running out, he's got a year left to prove he's still at the top of his game. And since his wife left him, Ryker has been balancing life as a pro-hockey star and a single parent to two daughters. Management is waiting for him to screw up. The fans are ready to pounce. Everybody's taking dirty shots—except for the fiery redhead whose faith in Ryker gives him a fresh start.

As the league's only female general manager, Gray Brannon has learned not to mix business with pleasure. And yet even this tough, talented career woman can't help breaking her own rules as she gives Ryker everything she's got. She hopes their hot streak will last forever, but with Ryker's conniving ex plotting to reclaim her man, the pressure's on Gray to step up and save a tender new love before it's too late.
Ryker is one of Ms. Bennett's best work yet. Yes I am conflicted between this one and the one just previously released Wicked Fall  http://amzn.to/1UD4sA0, book 1 in a new series, as I loved both.
With both of these books, this author I adore just raised the bar for herself going forward.
In Ryker , Ms. Bennett tells a touching and engaging story of a love never imaged by either Ryker or Gray. Ryder, an NHL goalie finds himself in a new city and a single dad to his two young daughters, while Gray Brannon finds herself as the first female general manager of an NHL hockey team.
I loved Gray from the opening pages. This take charge female takes the bull by the horns throughout the story while still being able to show Ryker a softer side. Hats off to the author for creating a fully developed character.
She is a take no charge kind of lady:
But no one—and I repeat no one—plays with my lady balls. That just won't do.
But this take charge I don't take hockey players woman is now faced with feeling something she never has before:
For the first time in my life I feel interest in something other than my career.
I feel needed.
I feel happy.
I feel cherished.
I. Feel. Everything.
And I don't want to let it go.
For the first time in my life, I feel love for a man other than my father.
This book is not filled with drama just for drama. It is filled with the deep emotions connected with finding a love you never thought you would, one you never imagined in a place that professionally could cripple you.
Ryker and Gray are adults faced with real life challenges; they handle themselves with class and dignity and in a way that kept me glued to my kindle hoping they would find a way to solve this major obstacle.
"I'm doing what feels right to me. You feel right to me."
"We can't," I murmur.
"We can," he cuts me off, rubs a thumb on the side of my neck.
"I'm your boss . . . it's inappropriate."
"And yet I don't give a sh!t."
I have read this series since Alex's release (book 1) and each book has made me love the series even more.  In Ryker, the bromance between Zack (book 3) and Ryker was hysterical at times and moving other times.  And seeing Alex (book 1) and Garrett (book 2) brought a smile from ear to ear.  The use of Alex as Team Captain was so well done, it made me love him even more and allows the reader insight into how these men co-exist.
This book is also hot at times!
I have no clue why Ryker likes to spend so much time with his mouth between my legs, but I can honest say it's one of my favorite pastimes…
The end of this book..WOW.. the end of this book.. in just a few beautifully written chapters, Ms. Bennett took me from my heart in my throat, to thinking oh-no, to I love that you didn't give up.
Life is not always easy; and I loved the use of Gray's father, Brian, during this part of the book. (and yes I hope he gets a happy soon)
"If it's real love… it's supposed to be hard… because you feel deeper. Things are more important. The risks are greater and the rewards surpass anything you could hope for."
As the story closes, my heart was full and I was reminded of why I love a Sawyer Bennett book and why I am a hockey fan for life!
If you have not read the series, this book is easily read standalone.
I think it is important to note that I read and rated this book before reading or knowing about the humbling dedication in the book.
♥BUY THE BOOKS♥
Book 1 – Alex
Book 2 – Garrett
Book 3 – Zack
Book 4 – Ryker