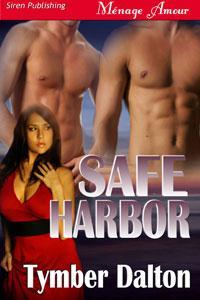 ---
5 STARS!!!
Synopsis
Clarisse seeks refuge from her abusive ex-boyfriend on the Dilly Dally, her uncle's old fishing trawler in Tarpon Springs, Florida. She doesn't expect to find Mac and Sully, the Dilly's sexy new owners, on board making love. They're at first startled by her appearance, then outraged by the injuries her ex inflicted. They insist she stay with them, and with nowhere else to go, Clarisse agrees. Both men find themselves falling for Clarisse, but she can't bring herself to completely trust Sully, a former cop, like her ex. She's shocked to discover the men aren't just lovers either, but full-time Master and slave in a BDSM relationship. As she learns more about their history and lifestyle, she uncovers her own hidden desires. When danger from her past returns, can Sully and Mac provide Clarisse a Safe Harbor? ** A Siren Erotic Romance
[Menage Amour: Erotic Menage a Trois Romance, M/M/F, Contemporary, BDSM, Public Exhibition]
Denise's Review
Ms. Dalton's The Suncoast Society series has overlapping characters in it but each book is stand alone!!
I adored this book… the range of emotions, the connections each character had to the other, the wonderful use of sex to show attraction and feeling was amazing. As was Ms. Dalton's ability to provide the reader with an understanding of this Dom/slave.. that ultimately becomes a Dom/Pet/Slave relationship.
Safe Harbor tells the story of Clarisse, a woman running from an abusive ex-husband and the journey that evolves when she meets Mac and Sully. Clarisse discovers that Sully and Mac live full-time as Dom and Slave. A relationship built on deep trust, understanding and yes, love. Oh the backstory on these two men loving and opening up to each other is so
amazing! As Sully describes in detail what this relationship mean to Clarisse, the reader is pulled in and sees the level of care and trust these two have for each other.
Clarisse's feelings for Mac develop first..Ms Dalton use Mac's words, and his actions to show just how much Mac is willing to do to make Clarisse comfortable. I truly felt the  struggle Mac was experiencing with his connection with Clarisse.. and then watching Clarisse learn to trust and care for Sully, well that warmed my heart.
Ms. Dalton truly forms unique bonds between each of these characters, they care and love for each other as each develops a place in the relationships.
It is wonderful to see deep down Sully is a romantic, he has very specific requests of Clarisse and as these three learn to live together, the use of sex, words and experiences all tied the story so well together.
But when danger threatens what these three have works so hard to achieve will their happy be short lived??? Well, that I am not going to tell you. You need to read to find out.. and I should add that as I type this I am wishing I had time to read this wonderful journey all over again!
Toward the very end of the story, Sully's sexual gesture toward Mac was masterful, it showed a deep connection and truly made the reader aware that Sully would do anything for the man he loves!
I have become a huge fan of Ms. Dalton's work and I have referred this book along with The Reluctant Dom (an amazingly emotional and powerful 5 star read) to countless readers and authors.
If you are a fan of BDSM and menage this book will not disappoint. Sully, Mac and Clarisse's story will stick with you and continue to keep a smile on your face long as you are done with this one!
About the Author

Tymber Dalton lives in southwest Florida with her husband (aka "The World's Best Husband™") and son. She loves her family, writing, coffee, dark chocolate, music, a good book, hockey, shoes, and her dogs (even when they try to drink her coffee and eat her shoes). She is active in the BDSM lifestyle.
When she's not dodging hurricanes or writing, she can be found doing line edits or reading or thinking up something else to write. You can drop her a line through her website/blog and keep abreast of the latest news, views, snarkage, and general ramblings she feels like posting when the mood strikes her.
(Also published writing as Lesli Richardson, Macy Largo, and Tessa Monroe.)
I like to write my stories around the characters. I don't "plot" my stories, I "pants" them. My characters are rarely perfect (and the perfect ones are usually first fodder for the bad nasties anyway). I like real characters, no matter how fantastic the story, that you can relate to and yet still escape with for a while. This means they'll have warts and all.