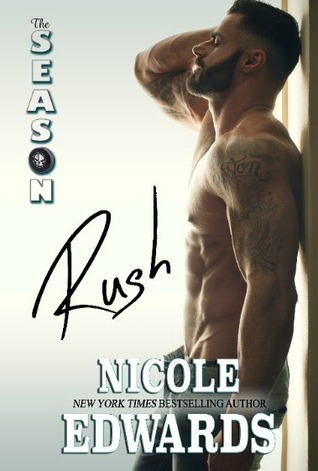 The Season: Rush

by Nicole Edwards
on August 16, 2016
Buy on Amazon, Buy on B&N, Buy on iTunes, Buy on Kobo
Goodreads


I was so excited to see that one of my favorite authors was writing about my favorite sport. Yes I was super excited to see Nicole Edwards was writing a hockey themed series.
Not only is it a sport I love, I know Nic loves and enjoys it as well; tie that with her writing style and you can see why I was super excited!
This series plays off Ms. Edwards' A Million Tiny Pieces, a stand alone she wrote last year. The Austin Arrows series is about the hockey team one of the main characters owns, but no worries if you haven't read it as this series stands on it own two skates…..
If you love hot stories with a beautifully crafted story, a story about adults who have to weave love into an already established and complicated life this is a must read!
Rush is the story of Kingston Rush the NHL's Austin Arrows goaltender.
Yes, Kingston is hot… "Six foot three inches, two hundred fifteen pounds of panty-melting muscle—yes." but this book is so much more…….Rush was layered with emotion and pulled me into these characters world, one that was so much more than just a story of two people finding love. I loved it; it kept my heart racing and my fingers flipping pages and I was so engaged in this book.
Now how to relay my love about this book without spoilers……… the premise of this book is "a ruse for the media".  This ruse sets the stage for the story.  The ruse was so well done, truly believable! I know why they did this, why they picked who they picked and why it was the best option.
Rush is so much more than a sports romance…. Rush is about adults, adults with complicated lives that don't operate in a vacuum, lives that don't just turn to roses because two people love each other.
This new world brought so many people to love. I adored Elle, I often wanted to strange Bianca and Gabby ugh…. oh and Noelle, Noelle is adorable, smarty, witty and her final push to Kingston was perfect (as was the fairy line – nope not what you are thinking).
The men in this story wow! First Kingston I loved being in his head not just as he relayed his passion and then love, but also he has struggled to keep focused on the game he loved as life threw him curve ball after curve ball.
The banter with Kingston and Spencer as well as with Kingston's brothers was so amazing. Oh and James… WOW his use in the story was spot on!
And P.S. you get more than one POV in this book. This adds so much to this layered story one that is about so much more than two people falling in love and skating off into the sunset.
As you can tell this story is filled with secondary characters that crafted a world that pulled me in and kept me glued to my kindle.
I don't mean to be vague but I really want the reader to experience this story knowing only what the blurb reveals, this friends to lovers and best friends sibling romance will capture your heart as Kingston takes on the kinkify challenge. 
Mount Rushmore will have you wanting to climb him while melting your heart!
I am so excited this start of a new series as I can't wait for the next one.