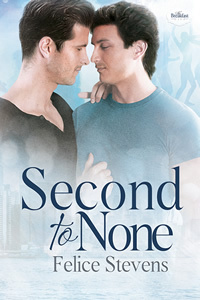 Second to None

by Felice Stevens
on January 28, 2016
Buy on Amazon
Goodreads


Nightclub owner Marcus Feldman never met a man he didn't love, at least for the night. Although his best friends have all found love, Marcus shuns their advice to commit to one man and settle down. His past has taught him monogamy and marriage is for fools, and Marcus is anything but a fool.

Tyler Reiss's dream of dancing professionally is unexpectedly cut short and replaced by a different kind of love. He trades in his ballet slippers for go go boots, and spends his nights dancing at the hottest gay club in the city. Flirting with the customers for tips is easy, but resisting the dark and sexy Marcus is becoming harder to do with each passing day.

Unforeseen circumstances bring Marcus and Tyler closer and though they give in to their mutual passion, both still struggle to guard their hearts. When crises threaten, Tyler and Marcus find their strength in each other rather than falling apart. Tyler must choose to either run, or stay and fight for the life he wants, while Marcus realizes that love doesn't mean losing himself and opens his heart, making him a better man in the end.
Second to None can easily be read as a standalone though it may be more fun witnessing Marcus fall hard if you have been seen him throughout the series.
And lines like this will mean so much more:
"One day you'll meet someone who'll set your world spinning, and you won't know how to stop it."
Second to None is the story of nightclub owner Marcus Feldman and Tyler Reiss, a man who has recently become an employee at Marcus' club Sparks. The reason why Tyler is shaking his ass at Sparks, will touch your heart. You will understand why he gave up his dream for a paycheck, well for tips, lots of tips, thrown at him, pushed down his shorts.
Tyler and Marcus have engaging banter from the moment they meet:
"You can't take over my life, Marcus; you don't own me." "Trust me, when I do own you, you're going to know it."
The plot of this one brings new characters to love. Lillie brought so much to this story… yes I know a female in a gay romance. No it's not menage, trust me it works!
Tyler doesn't put up with Marcus' crap and I love that.. as they two grow closer I loved them together even more:
"I don't belong there. Those are your friends, the people you're closest with." "I had my dick inside you twice last night, Tyler. How much closer could we get?"
…………………"Come on; you have to help me out here. They're all coupled up, and the last thing I want is to listen to them be all disgustingly loving and happy."
An amused glint lit Taylor's eyes. "And you hate that, huh?" "Bet that sweet ass of yours I do."
As this story develops, the plot layers with characters from Ms. Stevens prior books. I adored the use of Micah from Memories of the Heart (if you haven't read this one I highly recommend it). Ms. Stevens weaves in this doctor and his family to create added depth to this story.
The story of how Marcus and Tyler become a family warmed my heart; it was hot, emotional and had me knowing these men were better off for having found each other.
Ms. Stevens thank you so much for this wonderful series. I loved witnessing these men fall in love and grow their families!
♥READ THE SERIES♥
Book 1 – Beyond the Surface
Book 2 – Betting on Forever
Book 3 – Second to None