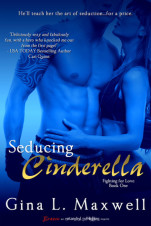 5 STARS!!!
Summary
Mixed martial arts fighter Reid Andrews's chance to reclaim his title as light heavyweight champ is shattered when he's injured only months before the rematch. To make sure he's healed in time, his trainer sends him to recuperate under a professional's care—Reid's best friend's little sister, all grown up.
Disorganized and bookish Lucie Miller needs some professional help of her own. She'd do anything to catch the eye of a doctor she's crushed on for years, so when Reid offers seduction lessons in exchange for 24/7 conditioning for the biggest fight of his career, Lucie jumps at the chance.
Soon Reid finds him himself in the fight of his life…winning Lucie's heart before she gives it to someone else.
Christine's Review
What a great debut novel! Lucie Miller has been "in love" with her colleague, Dr. Stephen Mann for years. He is everything a girl could want – handsome, successful and smart. The problem is – that he doesn't notice her. Enter in MMA Champion – Reid Andrews, Lucie's brother's childhood best friend. Reid has injured himself in a fight and is in need of PT for the next two months before his next fight to defend his title. Lucie is the therapist he is scheduled to see. The two enter into a bargain where Lucie will provide the intense physical therapy Reid needs for the next two months in exchange for him teaching her how to seduce Dr. Mann into falling in love with her.
I absolutely LOVED this book! This is the classic Cinderella story with a lot of heat! What I liked about this book was that Lucie is a strong, successful woman with relatable insecurities. She is hung up on a doctor that doesn't notice her until she changes her appearance. Reid is not just an MMA fighter. He is caring, sweet, romantic and just an all around nice guy. Yes he is absolutely HOT but he is definitely more than meets the eye. Reid wants to help Lucie inside and out – he wants her to become more self confident and comfortable in her own skin. He has taught her how to live life and enjoy it.
I absolutely recommend this book to anyone who wants a fun, sexy, fast paced and humorous read. The author did a great job with character development and it kept me entertained into early hours in the morning. I cant wait to see the next book in the series which is about Vanessa and Jackson. I hope that there will be more of Reid and Lucie so we knows what happens with them in their future! Great job Gina!
About the Author
Gina is a shameless romance addict with no intentions of ever kicking the habit. Growing up she dreamed of entertaining people and taking them on fantastical journeys with her acting abilities, until she came to the realization as a college sophomore that she had none to speak of. Another ten years would pass before she discovered a different means to accomplishing the same dream: writing stories of love and passion for addicts just like her.
A member of the Romantic Writers Association (RWA), San Antonio Romance Authors (SARA), and Rose City Romance Authors (RCRA), she recently signed with Entangled Publishing to write for two of their imprints.
Her Fighting for Love series with MMA heroes will debut July 2012 for the Brazen imprint with the first book in the series, Seducing Cinderella. The first book in her Prophecy of Souls trilogy, Desires of the Soul, is set to release in mass trade paperback in Summer 2013 for the Entangled Select imprint.
When she's not writing or wrangling plot bunnies in her San Antonio home, Gina keeps busy with her wonderful family and their ever growing extra-curricular activities. Thanks to their immense patience and support, she's able to live her dream of bringing a little romantic fantasy to the world, even if only in the pages of a good book.
Twitter Gina_L_Maxwell
Website http://ginalmaxwell.com
Facebook http://www.facebook.com/?ref=tn_tnmn#!/ginalmaxwell?fref=ts