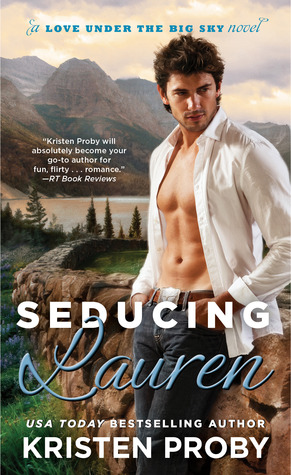 Seducing Lauren

by Kristen Proby
on August 19, 2014
Pages: 384
Buy on Amazon
Goodreads


In the second book in the Love Under the Big Sky series from this USA TODAY bestselling author of the With Me in Seattle series, life in Montana gets spicy when a woman and her divorce lawyer sign off the papers—and sign on to love.

Now that his best friend, Josh, has happily settled down with his true love on a Montana ranch, small-town lawyer Ty Sullivan starts thinking that maybe single life isn't all it's cracked up to be. And when Lauren Cunningham's no-good ex-husband comes after her for an unexpected trust fund, Ty steps in to protect her. But soon he can't help but think of her as more than a client. Lauren's in no mood to jump into another relationship, so how can Ty convince her that her mistake wasn't getting married, but marrying the wrong guy?
First, this book can absolutely be read as a stand alone.  Though I thoroughly enjoyed book 1 Loving Cara, with Seducing Lauren, Ms. Proby takes the reader to a whole new level. Yes, you see the characters from book 1 but this book stands on its own and the reader will have no issue becoming engrossed in it.
Seducing Lauren tells the story of Tyler "Ty" Sullivan and Lauren "Lo" Cunningham.  Readers who did read book 1 know Ty as Josh's best friend and Jillian's brother (Cara's best friend). Lo was a minor character who did have a part in a pivotal scene.
Ty is lawyer so he and Lo come together when Lo is sued by her ex-husband, Jack.  The tension between Lo and Ty is tangible and I was immediately rooting for Ty to get Lo to open up.  Ty's gestures as he woos Lo were amazing, I can't think of a woman who would not melt if Ty did these things for her (and no I am not talking about sex – you will have to read the book to witness them). This book is truly Ty seducing Lauren and the reader while he is at it.
The back stories for both Ty and Lo contained both heartache and triumph. Lo's background is a secret, one that watching her reveal to Ty showing trust like she shared with no other speaks volumes to their connection.
I adored watching these two connect on so many levels and witnessing them share the stories behind the ink on their bodies was entertaining and endearing.   Ty may be the best Proby man to date and his ink and reasons make him ever hotter (yes this lawyer is a softy deep down inside).
In typical Ms. Proby fashion, this is a dialogue rich book that will have you feeling like you are in the room with these characters that feel so real.
The sibling banter between Ty and Jillian was wonderful as were the group scenes.  Pssst the sexual tension between Jilly and Zack (Josh's twin brother) is a great set-up for book 3, Falling for Jillian.
I want to say Jack, Lo's ex-husband is a character so vile that as the story developed, I found my heart lodged in my throat, hats off to Ms. Proby for that; she created a man readers will despise while crafting a story line that allows the reader to both hate Jack and fall more in love with Ty.
In the end, the justice for Jack was perfect and made me love Ty even more (and I was not even sure that was possible.)
Before I forget, this is a Kristen Proby book – so yes it is HOT!
Again no worries if you did not read book 1, dive right in.
Ty Sullivan is not to be missed and the emotions in this one will pull at your heart and in the end will leave you with a smile from ear to ear.
I can't wait for Zack and Jillian in book 3, Falling for Jillian. Zack, Jilly and young Seth so deserve a happy!
♥READ THE SERIES♥
Book 1 – Loving Cara

Book 2 – Seducing Lauren

Pre-Order Book 3 – Falling for Jillian