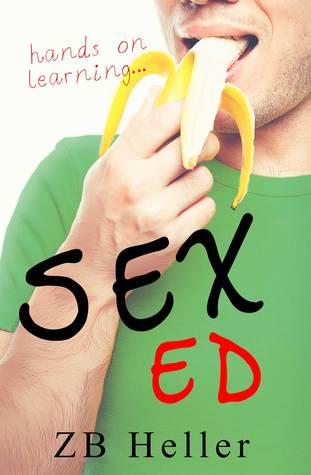 Sex Ed

on May 31, 2017
Pages: 243
Buy on Amazon
Goodreads


Jaxson Dane is harboring a secret.

Not the fact that he's a geeky comic book lover, or that he secretly draws his own comic, Bunny Fu Ninja Warrior. It's not even classified information that he's out and proud!

His secret is the shame that he's a twenty-three-year-old virgin.

Jaxson isn't waiting for marriage or even afraid of taking that step, he just hasn't found the one guy who will accept all of his adorkable qualities. Due to an unfortunate mishap with a self-pleasuring apparatus and his favorite appendage, Jaxson meets Tyler Mason. The emerald-green-eyed nurse is a witness to the mortifying incident, leaving Jaxon both grateful and disappointed in their one-time meeting.

And then Tyler somehow shows up at Jaxon's family dinner.

The very dinner at which Jaxson's hidden virginity is revealed to everyone, including the captivating nurse.

Even though he secretly found the ER situation hilarious, Tyler is also able to look past it to see Jaxson's genuine nature and is drawn to the charming and hapless comic book artist. He's tempted to pursue the inexperienced Jaxson, but a recent and life-altering decision puts a damper on his wants and desires. However, the more time they spent together, the more willing he is to take the risk of juggling his new commitments and winning Jaxon's affections.

A large, insane, and meddlesome family, two prying co-workers, and a sexy nurse are all trying to give Jaxson a crash course in Sex Ed. Will he pass?
It was so pleased when I learned this author was releasing another book!  If you have not read her prior books,
Sex Ed
 is a great place to start… though I think my favorite of hers it still
Tied Together
 (only $0.99 at time of post!).
Side note.. if you read and loves Tied Together like I did, you see that couple again as their now grown son is best friends with one of the main characters in this book, Jaxson Dane.
Sex Ed
is the story of Jaxson finding his happy with Tyler Mason.  How Jaxson and Tyler first meet is not only funny but sets up some great scenes along the way.
Tyler's backstory really added to this book. I did think it could have added even more but what was written was powerful and really added to the overall feel of the book.
The supporting cast had so many funny scenes, ones with epic banter!  Jaxon and his twin sister  Sophie were hysterical at times but even better is Sophie and Jax's best friend, Ethan.  This love-hate laced with sarcastic and wit is a relationship I do hope we see explored and pushed further… so yes I hope these two get their own book!
The relationship between Tyler and Jaxson is a slow build, and rightfully so as it suits Jax's character perfectly.  I truly enjoyed bearing witness to the developing feelings and to the heat that turns into exploration that turns into HOT!
Don't let the cover or the cute lines fool you—this book had emotion woven into its funny lines and sometimes over the top scenes!