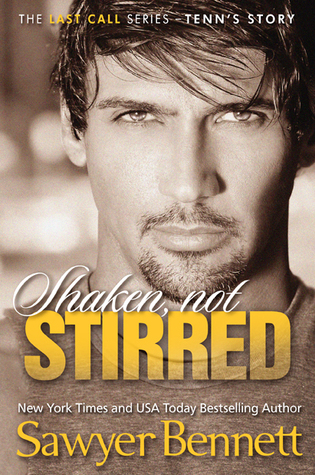 Shaken, Not Stirred

by Sawyer Bennett
on March 17, 2015
Buy on Amazon
Goodreads


Casey Markham is a man-eater in a rut. Swearing off relationships may keep her heart safe, but she's beginning to question if her casual flings will ever leave her satisfied. She's wondering if it's finally time to let go of the past and stop letting history control her future.

Bad boy biker, Tenn Jennings can't get Casey off his mind. A chance encounter with the beautiful blond has left its mark, and now he's determined to prove her wrong about everything she thought she knew about men.

It's safe to say… Casey Markham has met her match.
I loved Tenn Jennings!!! Yes, I am starting with that…. as he may be one of my favorite Sawyer Bennett males to date.
Shaken, Not Stirred is a wonderfully engaging read and although it is the 5th book in story (a family / friend saga) it can easily be read as a stand alone.
Casey Markham is seen in other books as the man-eater; the take what you want and move on kind of girl but that is explained in this book; masterfully well done by the way!
Tenn Jennings is a new character introduced in this book; so again truly a stand alone as you don't miss any buildup. So if this blurb interests you or the review peeks your interest but you have not read the prior books no worries – 1-click away.
Casey and Tenn's first run in is adorable and Ms. Bennett has the reader understanding the instant pull these two feel for each other. I truly enjoyed the alternative POV in this book and as I have already learned reading Ms. Bennett's books, she rocks male POV (which I don't think is an easy thing to do).
I loved Tenn (yes I said that already and Tenn's is his name) – you get a why for his name and it is great and ties into his brother's name Woolfe. Tenn had lines like this that stole my heart!
"I am never letting you go," he says through clenches teeth. "And I don't care if it scares the sh!t out of you. You're going to have to deal with it."
I adored bearing witness to Casey falling for Tenn, to Tenn pushing Casey to open up and embrace what was developing between the two of them. And yes there was something between them that not only did Ms. Bennett allow the reader to feel it; she used the supporting cast to highlight it!
When tragedy sends Tenn home, what Casey learns about Tenn will shock her and likely you as the reader. Can new love survive half truths? Read the book to find out!
I will say I loved how this all played out, it felt true to the story created and the characters involved in this twist!
Ms. Bennett – please pretty please write a happy for Woolf, Tenn's younger brother! Thank you!
♥READ THE SERIES♥
Book 1 – On the Rocks
Book 2 – Make it a Double
Book 3 – Sugar on the Edge
Book 4 – With a Twist
Book 5 – Shaken, Not Stirred