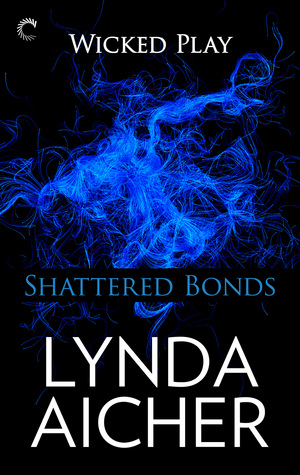 Shattered Bonds

by Lynda Aicher
Buy on Amazon
Goodreads


Will the doors of The Den close forever?

When the lives and friendships of The Den owners are thrown into chaos, Noah Bakker steps in to deal with the fallout. He hasn't had a sub or participated in a Scene since tragedy changed his life four years ago. But as an investor in the exclusive BDSM club, he can't walk away from the lifestyle completely. As he works to keep the club running, he finds himself drawn to Liv Delcour, the seemingly naïve sister of one of the other owners.

Liv didn't know about the naughty things her friends were up to behind closed doors, but when their secrets become headline news, she's more curious than shocked. As she works with Noah to keep the media at bay, she finds that his dominant strength is more than a little arousing. Soon they're exploring their mutual desires in the most wicked ways.

Liv isn't sure if she can completely submit to Noah the way she thinks he wants her to—and Noah isn't sure he can withstand the pain of falling in love…

New to the Den? Start at the beginning with Bonds of Trust.
Shattered Bonds tells the story of The Den Club Co-Owner Noah Bakker and Liv Delcour, sister to Vanessa Delcour, aka Mistress V another co-owner of the The Den whose story is told in Bonds of Courage (Wicked Play #6) a book I loved by the way.
Shattered Bonds opens with a bang, an event that truly rocks this cast of characters.  This is a story that features all the characters in the prior books so I would recommend reading at least some of the stories before this one.  I read Shattered Bonds having only read some of the prior books and I had no issues following the story.
Ms. Aicher did an amazing job taking this one event (no I am not telling you what it is…you need to read the book) and using it as a pivotal point both for Liv and Noah and the story as a whole.
I was able to feel Liv and Noah connecting.  I loved Noah's hesitation with Liv and I adored Liv just wanting to love Noah.
The event at the opening of this story brings with it a ripple effect that reveals secrets, the secret being the lifestyle many of these characters choose to take part of in private. Although BDSM is something this cast takes part in, it is behind closest doors and I love that the author highlights how these people's private lives being brought public could affect them.  It truly gave the book a realistic feel. My heart was rooting for all to work out for all of the characters in the book.
Despite all the characters being in this book, Noah and Liv still managed to keep center stage, I found myself early on rooting for them.  The sex between these two is hot, and though Noah owns a BDSM club the sex in this book does not take place in the club.
I love the question asked in this book what is a Dom vs a dominant? I will get ahead of myself and say in the end the happy Noah and Liv finds in the bedroom fits them so well!
Once Liv and Noah find each other they still have challenges, Noah has a past, one that affects his outlook on the future.
The trauma in Noah's past is heart wrenching; watching him battle those demons touched my soul.  I was thoroughly impressed with Ms. Aicher's handling of this element in Noah's past (no I am not telling you what this event is either…read the book!).
And I love loved how Liv could not fix this, yes Noah loved Liv and Liv loved Noah but Noah needed to heal Noah.  So well done!
Noah's coming to terms with his past and truly wanting to move his life forward pulled at my heart, brought a tear to my eye and gave me hope that love does heal if you let it and embrace it.
Thank you to Ms. Aicher for taking a powerful subject matter and handling it with grace and creating a story line that readers will truly enjoy.
♥READ THE BOOKS ♥
Book 1 – Bonds of Trust
Book 2 – Bonds of Need  (not available)
Book 3 – Bonds of Desire
Book 4 – Bonds of Hope
Book 5 – Bonds of Denial
Book 6 – Bonds of Courage
Book 7 – Shattered Bonds