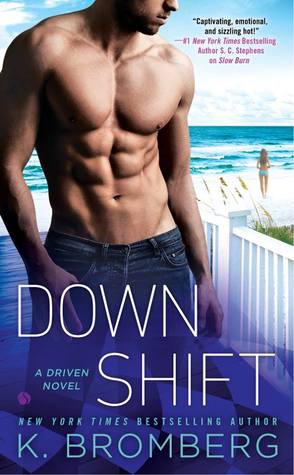 Down Shift

by K. Bromberg
on October 4, 2016
Pages: 400
Buy on Amazon, Buy on B&N, Buy on iTunes, Buy on Kobo
Goodreads


The New York Times bestselling Driven series continues with a standalone story about finding love where you least expect it…

Behind the wheel, racing champion Zander Donavan is at the top of his game. But after too much excess in his personal life, he's forced to step away. He needs to accomplish something all on his own—outside of his famous father's shadow.

Getty Caster is running away from the abuse that clouds her past. She thinks she's found the perfect escape—until she discovers a stranger in the beachside cottage she'd been promised. He's undeniably sexy, but she's there to heal. Alone.

Before long though, fighting with each other turns into fighting their attraction. And giving into desire sets off a chain reaction that has their pasts colliding. With an unexpected love on the line, can they overcome the fallout to build a future?
Down Shift is a captivating story about the power of family and in the end how family truly becomes those you choose to share your life with but I am getting ahead of myself….I should start with this book is COMPLETELY STAND ALONE (yes I am using shouty caps).
If you have read the Driven series then you will know Zander as the oldest son of Rylee and Colton from the Driven Trilogy (books 1 to 3). But again NO WORRIES if you have not read them as again this book is 100% stand alone!
From the moment I opened the book, the prologue sucked me in as Zander grabbed my heart. His pain was tangible, his tormented soul will make you wish you could reach into your kindle and hug him.. well and then shake him. Why? Well because although you understand why there are other ways, better ways than lashing out at those you love. But in the end these actions so fit Zander, the character crafted, that you will understand to the depth of your soul the distance that must be put between Zander and his current life.
Oh and in this scene Colton, oh Colton, you have come so far and learned so much… there is no doubt you completely understand what love is!
Rylee and Colton are parents who will pull at your heart (again even if they are new characters who you). Why you ask??? Because they are forced to let their son go, let him find his own way in the world, let him deal with his pain and hope they raised a man who will find his way back home.
Zander's journey of self discovery, of coming to terms with his past and how it meets his present and what he wants from his future was told in a way that kept me wanting to know more. The moment the reader is shown what sent Zander in a spiral you will yet again wish you could hug him and in that moment you will be so glad he had Getty to hug him. Yes, my review had neglected the heroine. I did that so you can experience her first hand, learn her as a reader and as Zander does.
I loved LOVED how in the end it was clear Colton was truly hoping Zander would find his way, the gesture for that was so perfect.
And wow the way Zander makes it clear he understands what family means was powerful and keeps running about in my head and it races this book full circle!