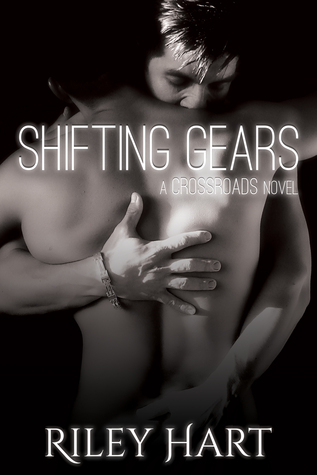 Shifting Gears

by Riley Hart
on February 19, 2016
Buy on Amazon
Goodreads


Rod Nelson is used to being someone's good time, and that's fine with him. Spending his days at his adult toy store, Rods-N-Ends, he never knows who he'll meet. The second Landon Harrison walks in, he has Rod's full attention. It seems as if Landon wants him too, so why won't the man jump in the sack with him already?

Landon never thought he'd return home to the town where memories lurk around every corner. He has to admit, Rod makes the adjustment a lot easier. He keeps Landon laughing. Despite the fierce attraction between them, he's not willing to risk his newfound friendship to get laid.

Neither man wants something serious, but the more they're together, the harder it is to keep their hands to themselves, until eventually they stop trying.

But flings between friends are never simple, and as they attempt to shift gears, diving into their first relationship, they're slammed with setbacks. If they want to truly move forward, before they hit the open road together, they're going to have to let go of a past that could make them crash and burn.
Though 
Shifting
Gears
 is listing as Crossroads #2, it is very much a stand alone.
The main character Rod is only seen briefly in
Crossroads
 as he is adult store clerk who sells Nick and Bryce a dildo. Yes the man from this epically funny scene gets his own happy in 
Shifting
Gears
.
I am going to pause here and say if you haven't read Crossroads, I highly recommend it as it is a very well done gay for you times two story. Yes both Bryce and Nick has never been with men before. They find something in each other they have never found in anyone before.  As a side note, I did love visiting with them again in this one!
"Looks good. Nick and I are having a barbeque this Sunday. I'm running the grill and Nick's making the rest of the food. He's a chef. He makes potatoes that are so f*cking good they get me hard."
Ok back to 
Shifting
Gears.
 I want to start by saying how I loved the way the name of this story intertwines with plot.  Rod meets Landon when he walks into his adult "toy" store. Yes, Rod has opened his own store; Rod loves sex and makes no qualms about making that known.
Rod and Landon develop such an easy banter and though Rod wants sex, Landon's initial refusal creates a deeper bond as they men develop a wonderful friendship.
"Hot Rod? I like that. You can call me that from now on if you want. It can be our code to let me know when I get your engine running." 
A light, airy feeling loosened up some of the tightness that always sat in his chest. "That was corny and you're crazy if you think I'm calling you that."
The first sex scene, which is sort of a non-sex scene, is powerful, hot and a wonderfully crafted vision for the reader.
No this isn't a BDSM story, this is Rod's scene of humor:
It was crazy but he loved seeing Landon flustered. "Whatever you say, sir. Ooh, that's kinky. I've always wanted to try and role-play that master/boy stuff. What do you think? Want to order me around? Make me strip for you?"
Both Landon and Rod have backstories that was woven into the story in a way that truly allows the reader to understand them.
I have said it before and I will say it again – humor is so hard… Ms. Hart pulls it off in this one. Rod is very funny and I loved his humor to hide the pain. When Rod finally opens up about his pain to Landon (and the reader), it is so powerful and well written.
The epilogue of this book takes some of the story full circle and made my heart full, while the bonus scene at the end heated things back up again and made for a wonderful finish especially considering Rod's career path!