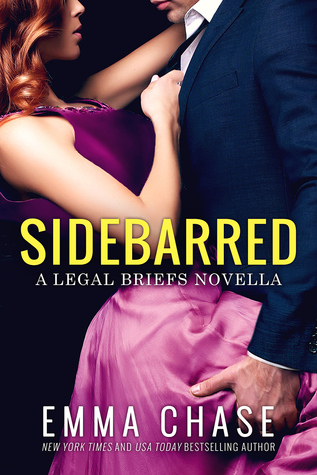 Sidebarred

by Emma Chase
on April 24, 2016
Pages: 101
Buy on Amazon, Buy on iTunes
Goodreads


There was a time when Jake Becker had it all together. He was controlled, driven, ruthless—in and out of the courtroom.

Then, six irresistible orphans and their heartbreakingly beautiful aunt crashed into his perfectly ordered life. They changed everything. They changed him. Now he's a husband, an upstanding member of society, a father figure—a family man. And he's pretty damn good at it.

Sure, he has to referee sibling smackdowns, re-learn algebra, ensure his clients stay of jail, and keep his wife happy—but it finally feels like he's got it together again....

So, of course something has to screw it all up. It's huge. Life-changing. Kind of terrifying.

And it will be the most amazing, perfect thing he'll ever do.
Sidebarred
 is a look inside the family that Jake and Chelsea created. If you have not read the Legal Briefs series you do not have to read the full series to enjoy this one. Simply #1click 
Sustained
 to read how this family came to be.
In this book, Ms. Chase has proven yet again that she is the Queen of male POV. This book is filled with wonderful banter, masterfully crafted family dynamics and love; love on so many levels.  
Sidebarred
 is one those books that as I got more distance from it, as I tried to put my love into words, the rating went up!
There are so many great lines, so many scenes with deep emotions. Ms. Chase will make you smile, she will make you laugh, and she will warm your heart! I was yet again reminded why she is a must-click author for me!
Sidebarred
 provides a glimpse into the life Jake, Chelsea and McQuaid kids created; this unplanned family is making it work with ups and downs and curves along the way!
Jake is truly comfortable in his skin and loves this life and the "I would pick you" conversation sent chills up my spine.
I think I could quote this book all day!
"This isn't what we planned."
I cup her beautiful face in both hands. "I didn't plan on you, Chelsea. Or them. And for as long as I live, you will be the best thing that ever happened to me.

"
Jake with the children is epic!!!
Chelsea's voice is low, so the kids can't hear. "There will never be anything sexier than watching you – with your muscles and tattoos – braiding a six-year-old's hair."
I shrug. "My braids are awesome."
I hope this one doesn't give away too much about the developments in this family but I had to share because I think I snorted and almost choked reading this hysterical exchange between the children:
"Somebody tell me the old-fashioned way!" Regan yells.
And Rosaleen gets fed up. "It's when the man and woman fall in love and the man puts his penis in the woman's vagina and 

nine months later

 a baby comes out of it."
Regan looks at me like I'm a monster.
"You put your penis in Mommy's vagina?"
Christ, this went downhill quick.
"Why would you do that?"
Jake was all male and I adored how he tried to be the best he could for Chelsea and the kids:
"I'm not good with flowery, romantic kind of words. But she makes me wish I was. Because she's more than my wife- more than the owner of the p*ssy that has me so very whipped. She's my love, my home, the solace to my soul, the keeper of my heart, the center of my entire f*cking world.
The Jake truly alpha male moment in this book was so well done!!!! It was so realistic and the reader will understand each parties point during the disagreement.
In the end, Jake feels he is defending his family and Chelsea just wants to be heard; something I think many of those in relationships will completely relate to:
"You f*ck with my wife, you f*ck with me. And in case you haven't realized it yet, I'll spell it out for you: you do NOT want to f*ck with ME."
In the end, the epilogue to this one was much fun and it was such a beautiful vision of this "family." Nope not a traditional family but one built with love and devotion!
Ms. Chase thank you for the whole Legal Briefs family! I so hope someday we get to see the children's happy play out!
♥READ THE SERIES♥
Book 1 – Overruled 
Book 2 – Sustained
Book 3 – Appealed
Book 3.5 – Sidebarred