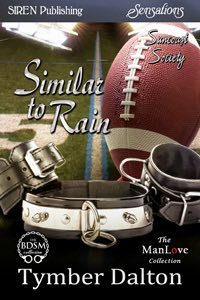 Similar to Rain

by Tymber Dalton
on March 6, 2017
Pages: 141
Buy on Amazon, Buy on B&N, Buy on Kobo
Goodreads


First a gruesome, traumatic injury that ends Lee's NFL kicking career. On the heels of that, his cheating wife files for divorce. He's officially hit rock-bottom. Stuck in a hotel room and barely able to care for himself, he reconnects on Facebook with his best friend from high school…and the guy he secretly crushed on.

Arlin has been out of the closet for years, but only a few people know about his kinky side. When Lee contacts him, he rushes in to help his old friend. What Arlin thinks he can't reveal to Lee is that he's held a torch for him for years.

Getting out of their own way is the first step. Once the men confess their feelings to each other, the best second chance of their lives is now within their grasp. But as Lee's recovery progresses and a lucrative network TV career presents itself, will their happiness endure, or slip through their fingers like rain?
I loved Similar to Rain—the story of Lee and Arlin. This is the story of two grown men, Lee a former NFL'er dealing with the aftermath of a gruesome injury and Arlin a successful businessman who is out of the closet but just never finding the right man to fill his life; likely adding to his search is the fact that he is a Dom yes cue the heat factor!
Having said that… this book is a beautifully crafted slow burn.
The reader bears witness to Lee and Arlin re-connecting as they were friends in high school, they get to experience these men opening up to each other about their attraction and readers will be engaged as their bind deepens—all this adds to the heat when it comes.
The dynamic that develops between Lee and Arlin, the friendship that morphs into so much more captivated my heart and soul. I was instantly rooting for Lee and Arlin but this is a book about adults so there is adulting to do.. and careers that need to be considered.
The mutual respect Lee and Arlin have for each spoke to the depth of their love, love that in the end does shine through.
And yes I should add the Dom / sub relationship here in typical Tymber fashion is well crafted, layering sex with trust and emotions. Arlin and Lee each serve a need the other has and you the reader understand what each gets from this aspect of their relationship.