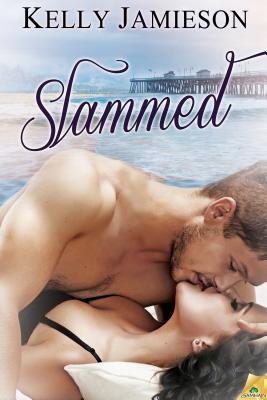 ---
4 STARS!!!
Synopsis
"He never saw love coming…until it crashed into him. "
"San Amaro Singles, Book 3"
Brooke Lowry has a mission: fly to Tahiti, pluck PR nightmare Dylan Schell out of whatever party he's in, bring him home and clean up his image.
It was her idea for Jackson Cole clothing company to sponsor the pro surfer. But the chances of saving this deal-and her career-look pretty slim when she finds the sexy party boy "shooting the curl" with two beach bunnies.
Dylan is finally getting back on track, and the next big event would put him over the top…if it wasn't being held in San Amaro, where he'd be forced to watch his best friends Matt and Corey tie the knot and move on without him.
He'll do anything to keep that from happening, including taking shameless advantage of a tropical cyclone-three days cut off from civilization-to distract the lovely Brooke into his bed.
Despite her moment or three of weakness, Brooke won't be deterred. And suddenly Dylan finds himself facing a lot of things-his hometown, his past, and something he didn't see coming. Love.
Warning: Check it, dude, this book contains a bad boy surfer who gets slammed by fierce waves but gets back up, a buttoned-up woman who learns to chillax, and some righteous shreddin' the gnarl.
Denise's Review
This is book 3 in the series where each book being about a different couple, you do meet Dylan in book 1 and I recommend you read With Strings Attached (San Amaro Singles, #1) before Slammed.
How to Love (Book 2) is a ménage that can be read in order or after if you enjoy these two.
Dylan Schell is a world-class surfer whose life has taken a few twists and turns. He finds himself spiraling downhill when his PR rep Brooke blows into his life.
Brooke is sent to retrieve Dylan from Paradise and get his life back on track or Dylan risks losing his major sponsor Jackson Cole.
From the moment Brooke meets Dylan she knows this bad boy is hot and trouble.  Ms. Jamieson makes the chemistry between these two tangible. Paradise… the author does an amazing job transporting the reader to the Pacific where these two connect and start their dangerous game of cat and mouse.
Brooke's career ends up at stake as Dylan pushes the limits of his body and image. I truly enjoyed this realistic aspect of this book, because sex and the workplace can really put a woman's career in jeopardy.
Brooke's family made for some fun scenes and truly helped the reader understand where she was coming from.
Dylan and Brooke work to establish a working relationship and Dylan attempts to re-connect with his friends Matt and Corey from book 1. I do have to say I thoroughly enjoy how sex did complicate things; it felt so true to me that a tryst from the past affects things between Dylan, Matt and Corey. And I was so happy Ms. Jamieson has these three work things out like adults.
I love the epilogue in this book and I adored how Dylan and Brooke finally made their way to each other.
About the Author
Kelly Jamieson is a best-selling author of over twenty-five romance novels and novellas. Her writing has been described as "emotionally complex", "sweet and satisfying" and "blisteringly sexy".