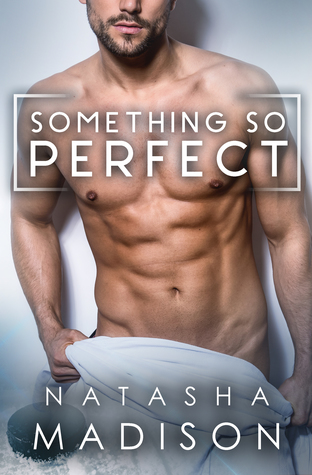 Something So Perfect

by Natasha Madison
on July 31, 2017
Buy on Amazon, Buy on B&N, Buy on iTunes, Buy on Kobo
Goodreads


Matthew

Drafted first round pick when I was seventeen, playing first line at eighteen, branded NHL's bad boy at nineteen. At twenty-three I was cut from the team and living back home with my parents. A knock on the door brought an opportunity I couldn't turn down. All I had to do was prove I learned from my mistakes, so no way would I fall for a chick with a pouty mouth even if I wanted to spend all day devouring it.

Karrie

When my father gave me a job, I had no idea it would be to babysit some washed up NHL player. He wanted me to be his chaperone, his overpaid babysitter. I thought it was a joke. Then I met him, Matthew Grant. I wasn't prepared for this particular bad boy. He's not only hot but he's arrogant and kinda sweet in a 'you make me crazy' kind of way.
Basically now that he's finished screwing up his life, he's decided to turn mine upside down.

She's the first thing I've ever wanted more than hockey.

He's the guy I know I should stay away from.

But what if this thing that started out so wrong turns into something so perfect?
Natasha revealed a chapter on her Facebook page – you can read the chapter HERE.
I am going to start with shouty caps I LOVED MATTHEW! Then I am going to say that Something So Perfect is easily read as a stand alone as book 1 is about Matthew's mother and step-dad; yes for those who read book 1…. in this one the author has moved the timeline up!
Matthew knew what he wanted and what he wanted was Karrie.
This story drew me in from the onset …. Matthew is now twenty-three… the lessons he has learned from age eighteen were so powerful.
This book was funny and hot all while also having emotional connections between the characters!
Karrie and Matthew captured my heart! I loved that they spent so much time together and as reader you get a front row seat to their bond deepening. I adore when a book does this—when you can live with the characters. This made for so much epic banter, so many great scenes, so many examples of why these two belong together.
I want to make sure to thank the author for not filling this book with unnecessary drama. My heart soared that when the scenes got heavy, these two stood by each other! That to me really speaks of forever and true love.
The end of this book was WOW! The epilogue so fun and layered and a complete happy that has me still grinning hours after putting the book down.
And now I can't wait for Something so Irresistible in Jan 2018. I will NOT say who it is about but I will say you will love it.  I want the reader to experience the moment you find out as I did in an epic reveal fashion!!!