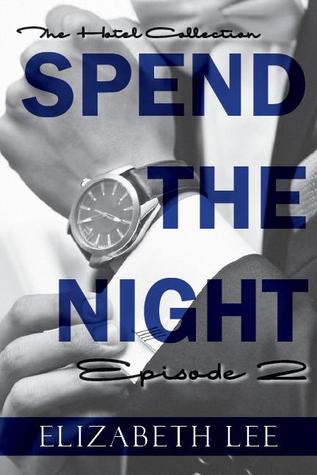 Spend the Night II

by Elizabeth Lee
on February 3, 2015
Goodreads


Spend the Night – Episode 2

Someone's playing a deadly game…

Two men vying for your attention—seems like every girl's dream come true. For Hannah Wellesley, the dream has become a nightmare. As she continues to navigate her feelings to determine which man she truly belongs with—the first love who's become her current business rival or the enticing new chef who's testing her sexual limits at every turn—a new set of problems presents itself. One that includes a breach in hotel security that has her fearing for her own safety and the reputation of the Wellesley-Crawford.

Soon she finds herself playing a dangerous game of cat and mouse that might just cost her everything she's worked for—and maybe even her life.
I enjoyed this installment of Elizabeth Lee's serial – Spend the Night. Installment 1 introduced us to the story line and characters of this series while this installment continues with the story and we get more heat and suspense and build up. I will be honest and say that I SO WISH that this was one complete book because I am DYING to find out the answers to all of my questions. Thankfully we don't have to wait too long as the final installment is out on Feb 17th.
I completely enjoyed getting sucked into this story more and getting to know the characters while the mystery completely intrigued me. I felt confusion, suspicious at every turn and the twist at the end had me reeling and I kept trying to turn to the next page on my kindle and there was none there! I know I am not saying much of the story and what's going on but I feel that the reader must experience this on their own, not knowing…like I did 🙂
I totally felt the anxiety hence why I wish that it was a complete story but alas I have two weeks to wait and it can't come soon enough! This is my first time reading an Elizabeth Lee book and I have enjoyed my experience thus far…For fans of serials looking for something fun, mysterious and quick to read, I encourage you to give this one a try!
♥READ THE SERIAL♥

We are giving away an ebook set of Parts I and II to one winner. All you have to do is spread the word of Elizabeth Lee's release day for Spend the Night II on your social media account(s) (Facebook, Tsu, Twitter, Instagram, etc). Sample message below:
#SpendTheNight2 is Available! @elwrites www.amzn.com/B00T130JX0 @shhmomsreading
Please make sure to post a link to your share below. ONE winner will be chosen on Sunday February 8th at 10am EST! Good luck! And thank you for sharing!