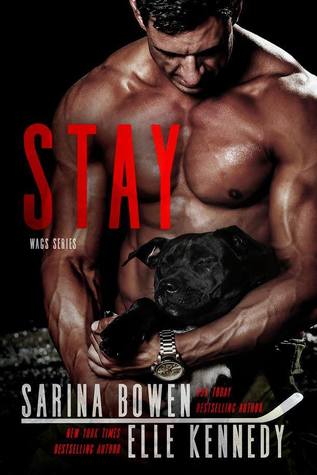 Stay

by Sarina Bowen, Elle Kennedy
on June 20, 2017
Buy on Amazon, Buy on B&N, Buy on iTunes, Buy on Kobo
Goodreads


Can you fall in love with someone you've never even met?

Hailey Taylor Emery has a hunch that her favorite client at Fetch—an anonymous virtual assistant service—is actually hockey star Matt Eriksson.

Although it's against the rules for her to check his file, she's 95% sure she spends at least part of each day texting with her lifelong crush and catering to his every need. Still nursing a wounded heart thanks to her recent breakup, Hailey is perfectly content with some harmless online flirting... until she has to meet her client. Face to face. Cue: utter panic.

Matt Eriksson is no stranger to heartbreak. He's still not over the destruction of his marriage, and it sucks to be the only guy on the team who knows the truth—that hockey and long-term relationships are a toxic mix. He barely sees his kids, and dealing with his ex makes him feel insane. The only person in his life who seems to understand is someone who won't show her pretty face.

But it's nothing that a pair of fourth row hockey seats can't fix. Hailey can't resist the offer. Matt can't resist Hailey. Good thing he doesn't have to. Fire up the kiss cam!

Warning: Contains rabid hockey fans, misunderstood dick pics, hockey players at the opera and exploding ovaries.
I loved this single Dad book about hockey player Matt Eriksson. STAY is set in the world introduced to readers in HIM/US but it is easily read as a standalone.
If you loved the prior books no worries you get some engaging scenes with the prior cast along with some epic banter.
How Matt and Hailey first interact was unique and truly entertaining to read. I was glued to my kindle as their banter kept me smiling as these two got to know each other.
The attraction these two share was both emotional and physical; no worries this one gets super hot but it also shows the deepening connection and—one of the things I loved most—the mutual respect they have for each other's careers.
The scars left from Matt's prior marriage will tug at your heart even in the moments you want to strangle him.
I adore how what ended Matt's marriage came full circle. Hailey as she did for the whole book handles herself with style and grace. This female lead was one of my favorite parts of this book; her drive, her ambition, and yes her love for hockey made me want this happy for her.
The authors made it so clear to the reader that though both these characters are divorced and though they had forever before that this relationship was their true forever. They did a wonderful job highlighting how each character felt different than they ever had in the past. Speaking of the past, the relationships with both ex's added true depth to this story.
Matt's daughters were adorable and used to show the softie inside this big man! So fun to bear witness to.
The happy Matt and Hailey find brought a big smile to my face.
I am so excited for more in the series as the other players find their forever happy.
Book 1 – Good Boy