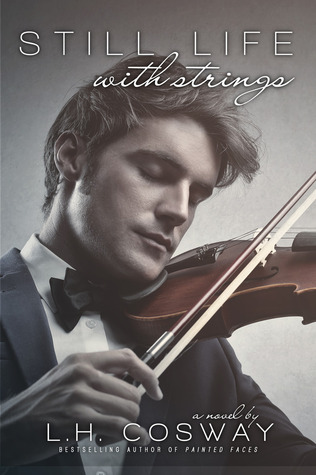 Still Life with Strings

by L.H. Cosway
on March 24, 2014
Pages: 280
Buy on Amazon
Goodreads


My name is Jade Lennon and I stand still for money.

The night I saw Shane Arthur watching me everything changed. A man in a suit always catches my eye, but it was the way he looked at me that was different. Like he knew me or something. He didn't know me, especially not in my costume. My sobriety rests on staying away from men, but there was something about him that made me throw caution to the wind.

After all, I was never going to see him again, right?

Wrong.

Standing still isn't the only way I make my money. I also bartend at a concert hall. Never in my wildest dreams did I think Shane was going to show up there. Not only that, but he's the most recent addition to the orchestra. So now on a daily basis I have to resist one of the most beautiful men I've ever met and he plays the violin. For me that's one hell of a deadly cocktail.

He wants me to teach him how to live. I'm not sure how much a twenty-six year old recovering alcoholic who works in a bar and moonlights as a living statue can teach a world class concert violinist, but I'm sure going to try.

Still Life with Strings is a story of music, art, sex, magical realism, and romance that you will never forget.
Still Life with Strings was the only book that I hadn't read by L.H Cosway so of course I had to pick it up and read ASAP despite all of the other books I had scheduled to read.
What I absolutely LOVE about L.H. Cosway books is that each one is different, each book's characters so fully developed and so intriguing and most of all the main men in each book know how to truly love their women with all of their heart, body and soul. It's completely breathtaking how Ms. Cosway can do this time and time again, each experience a new one for the reader and making us fall in love with her characters time and time again.
This was a beautiful story of realizations and acceptance of love.
Jade Lennon and Shane Arthur have lived such different lives. Jade is an orphan having lost her mother and father and has taken on the responsibility of caring for her younger siblings. Jade is strong and fearless and works hard to provide for her family. Shane conversely has lived a privileged albeit lonely life. Shane is a professional concert violinist and there is something so mysterious and sad about this man.
The way that these two meet and their first encounter with each other in a dark alley is an almost escape from reality, their chemistry exploding from the pages; each only living in the moment never believing that their paths would cross again.
But when their paths do cross, Jade is unable to give more than her friendship and she teaches Shane how to really live and experience life and though she doesn't want it to be more, it becomes that and so much more with the possibility of love.
I enjoyed many aspects of this book – the music that exudes from the book was masterfully done.  I could feel it, sense it and hear it in my heart and mind. The beautifully written words and most of all the serendipitous fate that so overwhelmingly spoke of how these two were destined to meet each other and be a part of each other's lives.
So with their past struggles will they be able to give each other more than just friendship? Will they be able to teach each other to life life fully and completely and finally accept the love that they so deserve?
You will have to read this book to find out!
Ms. Cosway writes with her heart and you will be hard pressed to ever be disappointed with any story she writes as what she gives us always is completely magical! <3