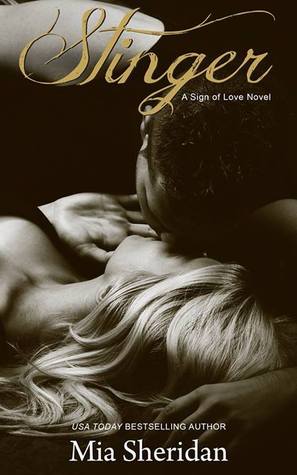 ---

Grace Hamilton was the girl with a plan. She knew exactly where her life was going and prided herself on always achieving her goals. It was who she was, and how she lived her life. She never stepped outside the lines, and never considered what she might desire and whom she was actually trying so hard to please. Until him…
Carson Stinger was a man who didn't play by any rules except his own. Working in the adult entertainment industry, he didn't care what others thought, and took each day as it came, no direction, no plan. He knew what women wanted from him and believed it was all he had to offer. Until her…
When circumstances forced them to spend several hours together, they walked away changed. But for two people who never should have meshed, overcoming the reality of their vastly different lives wasn't possible. At least not yet…
THIS IS A STAND-ALONE SIGN OF LOVE NOVEL, INSPIRED BY SCORPIO. New Adult Contemporary Romance: Due to strong language and sexual content, this book is not intended for readers under the age of 18.

Denise's 4.5 STAR Review!!!
I want to start by saying this is a stand alone novel inspired by Scorpio; the Sign of Love Novels are stand alone novels.
So please feel free to 1-click Stinger after reading this review.
Stinger is the kind of book that pulls you in right away; the premise a law student meets a porn star in Vegas  becomes so much more than that.
From the moment Grace Hamilton and Carson Stinger meet, the chemistry is clear and the banter is so enjoyable as I said it truly had my attention and made me wishing I could crawl into bed and spend the day alone with my kindle and this book.
Yes, Grace tries to walk away from Carson as their first encounter has her knowing he is Carson Stinger "straight male performer" but circumstances beyond her control have her trapped with Carson and oh how I loved the time they spent together.  This time opening up leads to what is supposed to be a no-strings attached weekend.
I will say that trying to walk away from the next few scenes made me late to work as I hoped the experience with Grace truly impacted Carson to the level it felt while reading in the prior chapters… hmm nope not telling you what that means or the outcome.
The backstory that is revealed for each character during this weekend so fit who they were painted as at that moment in their lives and it was so amazing how this time together created who they would be moving forward.
I will say this book becomes a second chance romance, one that is so powerful because these two who only shared a few hours with each other truly left an impact that shaped the outcome of their lives.
The outcome of their professions and how they see themselves as life moved forward after this fateful weekend. I want to say the future Carson creates for himself so fits the character underneath the mask (as Grace calls it). The path Stinger takes impacts his future and creates a character who I loved even more.
When these two finally see each other again, Ms. Sheridan did a wonderful job at allowing the reader to feel the tension, the connection and to make it clear yet again that what these two feel for each other is so different than anything they have felt for anyone else.
The moment Grace gets "it" was powerful and so well done; and her journey to share that with Carson had me gripping my kindle and praying he did not do something stupid in the face of her initial decision.
These scenes for me were so well done; I was engrossed in the story and truly felt my heart pounding for Gracie as I hoped she would find Stinger and open her heart to him.
Oh I want to pause and say I loved the use of "buttercup" throughout the story; it was not only adorable but added to the dialogue these two exchange and was a fun way for the reader to connect with them.
The women that touch Carson's life during this separation are not what you expect and their use not only further developed his character but as the story builds it moves the plot forward and weaves it into one that makes an impact on all those around it.
Grace and Carson's initially trust in each other is re-visited as secrets are revealed. Grace again believes in Stinger and helps become part of Carson's solution.
The end of this book is epic; and I love loved Carson reminding the special person in his life that the internet is forever; something that will force him to have a real conversation with this person years from now.
Yes, cryptic but trust me, it will all make sense.
Carson and Grace so belong together and although it was a long journey to their happy the people they become and the happy they find make the journey not only worth it but one necessary for this happy to work.
Ms Sheridan has solidified her place as a must click author for me!