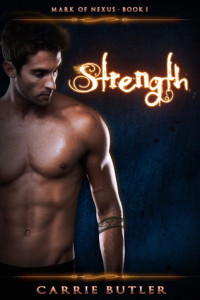 ---
3.5 STARS!!!
Synopsis
When college student Rena Collins finds herself nose-to-chest with the campus outcast, her rumor-laced notions are shattered. Handsome, considerate, and seemingly sane, Wallace Blake doesn't look like he spends his nights alone, screaming and banging on the walls of his dorm room. Hell, he doesn't look like he spends his nights alone, period.
Too curious for her own good, Rena vows to uncover the truth behind Wallace's madman reputation–and how two seconds of contact had left her with bruises. Of course, there are a few setbacks along the way: guilt, admiration, feelings of the warm and fuzzy variety…
Not to mention the unwanted attention of Wallace's powerful, supernaturally-gifted family.
They're a bloodline divided by opposing ideals, two soon-to-be warring factions that live in secret among us. When Rena ends up caught in their crossfire, Wallace has no choice but to save her by using his powers. Now they're really in trouble. With war on the horizon and Rena's life in the balance, he needs to put some distance between them. But Rena won't let go. If fighting is what it takes to prove her own strength and keep Wallace in her life, then that's what she'll do–even if it means risking a whole lot more than her heart.
(Upper YA/New Adult)
Christine's Review
I had a mini break in between blog tours and picked up Strength which was provided to me by Sapphire Publishing for an honest review.  I am on a total New Adult kick and loved the fact that this had paranormal elements thrown in so I couldn't wait to get started.  This was my first Carrie Butler book and will definitely not be my last.
Rena Collins and her friends, Gabby and Aidan are in college living the typical college existence – classes, studying, partying, relationships etc.  And like most college scenarios, there is the element of constant rumors and gossip.  The gossip being about Aidan's reclusive outcast suitemate – Wallace Blake.  The rumor about Wallace is that there are strange noises coming from his room every night and that his roommate may or may not be alive.  Who wouldn't be scared and want to stay away from this crazy person?!
Rena's roommate Gabby is heavily into hookups with guys and one night when Rena encounters the orange scrunchie hanging from the doorknob she has no choice but to find refuge in Aidan's room until Gabby is done entertaining.  And on her way into Aidan's suite, Rena literally runs into Wallace and from that moment on cannot stop thinking about him.
Rena is fascinated by Wallace and how her small contact with him has left bruises on her body.  And while the rumors still circulate about Wallace, Rena can't help but defend him as Wallace becomes a good friend to her – someone that she can trust and lean on and talk to.
I truly enjoyed the characters in this book.  I thought Rena was funny, spunky and not afraid to stand up for herself.  The reader can see how tough she is and doesn't want to let anyone into her heart.  I enjoyed watching the attraction between Rena and Wallace grow.  They continuously tried to hide their feelings from each other but I could see it and feel it as I was reading the well written words that Ms. Butler wrote.  Wallace was also a great male lead character.  You could see from the start how much he cared about Rena, how he took care of her and despite their differences how much he wanted to protect her.  While I was reading, I could see how they were bound together like soul mates and in my heart I wanted to see these characters get together and move past their insecurities and truly experience love.
When the secrets are finally revealed about Wallace, will Rena be able to accept him for who he is?  And can a relationship between these two actually work and survive?  On a side note, I LOVED the meaning behind the Mark of Nexus, I loved the growing romance between these characters and I loved how something that started from fear of the unknown and misunderstood turned into something so much more.  I truly felt it in my heart.  You will have to read this book to understand what I am writing about!
I can't wait for book 2 and see what happens next for this cast of characters.  Great job Carrie!
About the Author
Carrie daydreamed her way through college—until they thrust a marketing degree into her hands, slapped a summa cum laude seal on the corner, and booted her out into a less-than-stellar job market. Instead of panicking at the prospect of unemployment, she used her Midwestern logic to steer into the skid and point her life in the direction she really wanted to go: writing out those daydreams.