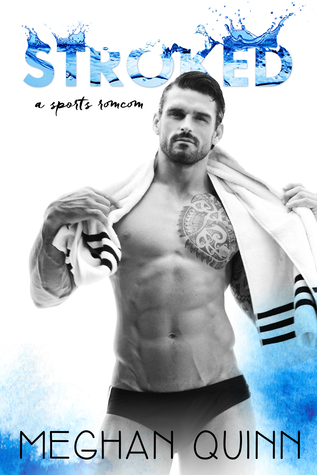 Stroked

by Meghan Quinn
on July 20, 2016
Pages: 363
Buy on Amazon
Goodreads


Reese King: Olympic medalist, underwear model, Greek god.

His body is chiseled from rock, sculpted by the weight room, and refined by water.

On a daily basis his skin is completely bare for everyone to see, tan and defined, only covered up by a minuscule piece of spandex. There is no denying his sex appeal.

I hate to admit it, but I'm head over heels infatuated with him.

There is one HUGE problem though. His achingly gorgeous abs, inked up arm, and cocky swagger belong to my boss, the high-profile, reality star bitch from hell and certified heinous human being, Bellini Chambers.

What I think is going to be an easy job assisting a glorified wench turns into a cluster f*ck of epic proportions.
Enter the Rafflecopter below for a chance to win your own signed paperback of STROKED!
In all seriousness, I don't think I have laughed so hard and loved characters so much in such a long time – even the evil villain Bellini Chambers (I know *gasps)! Meghan has this way of really pulling a reader into a book and captivating them from the get go. Stroked is the perfect blend of humor, sweetness, and romance that really made my reader heart so very happy.
Poor Paisley Macarro did the unthinkable on set of her film production job and now has to start all over again in the industry making a name for herself by being the assistant to Satan herself – Bellini Chambers, a reality TV star with the biggest ego I have ever encountered. Don't even get me started on how repulsive and crazy this woman is (you will want to get to know her yourself so you can roll your eyes at her antics).
Bellini is in a relationship with Reese King, aka the swimming Olympic God/underwear model. *swoons* You honestly couldn't find a better male hero as Reese is a mix of vulnerable, loyal, good, sweet and OMG sexy!
Sparks instantly fly between Reese and Paisley and their conversations, interactions are flirtatious and fun and I SO want this man to leave his wretched girlfriend for Paisley. Paisley for all of her trying, finds it completely hard to resist Reese's cocky, sexy playfulness but she can not lose her job and has to work her butt off to get back the respect that she deserves.
So what happens??? Well obviously I can't tell you because this is a #mustread but I will say this…Stroked touches on the forbidden aspect of having a relationship with someone who is your employer so you get that angsty feeling in the pit of your belly wondering what will happen with this hot sexual chemistry between Reese and Paisley.
Laugh out loud funny and sexy as hell! Meghan Quinn is the Queen of RomCom and I'm completely in lust with Reese King. Quinn's trademark hysterical dialogue combined with a breath of fresh air storyline makes Stroked a not to be missed read.