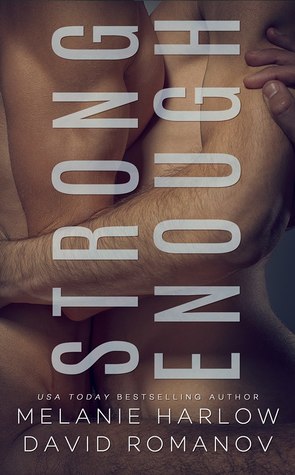 Strong Enough

by Melanie Harlow, David Romanov
on June 19, 2017
Buy on Amazon, Buy on B&N, Buy on iTunes, Buy on Kobo
Goodreads


From USA Today bestselling author Melanie Harlow and David Romanov, comes an all new sexy and emotional MM standalone romance.

I wasn't looking for Derek Wolfe.

I wasn't looking for anybody. All I wanted was to start a new life in America. But when I found myself stranded here with no place to go, he came to my rescue, offering me a place to stay.

He's smart, successful, and sexy as hell—I can barely sleep knowing he's right down the hall. And when the chemistry between us explodes one night with fierce, fiery passion, it's hard to deny there's something real there.

But he does.

He says he was drunk. He says it was a one-time thing. He says he's not into guys and what we did meant nothing.

He's lying. Because it happened again, and again, and again. And it's better every time.

I know we could be good together, and I want the chance to try, but I'm done hiding. If he's not strong enough to admit the truth, I'll have to be strong enough to walk away.
Strong Enough kept my glued to my kindle. This is the kind of book that has you seeking reading time in your phone's kindle app and then working to sync between devices.
I was instantly drawn to Derek Wolfe, his hint of OCD and desire to live the life he's painted for himself in his head had me wanting to know more about this man.  It was clear from the onset he didn't feel what he needed to make this vision a reality.
How Maxim Matveev ends up in Derek's life I won't reveal as it is so much fun to bear witness to. What I will say is these authors did an amazing job at showing how this was so different for both.
Derek, poor conflicted Derek, this part of the story tugged at my heart over and over.  I adored how the pull Derek felt for Maxim overtook him a few times but then he tries and tries to suppress it. Though I know it was painful for both characters, it felt so real given the world crafted.
Derek's sister was masterfully woven into the plot adding to the story and in some cases moving it along as was Derek's friend Gage.
Maxim's energy, his desire to live his dream pushes Derek to look further at his own life and for me that was one of the best parts of this story. The reader gets to question are you happy or just moving about life in a fashion in which you think you should.
This book contains many powerful and moving lines, some great dialogue and two men who are very much each other's soulmates.
In the end Derek grabs hold of the happy he never imagined himself to live but one that brings him more joy than he could have even imagined.
Make sure to read the author's interview at the end of the book. Thank you to Mr. Romanov for sharing part of your personal story and I was also pleased to read that Ms. Harlow will be writing more in this genre.