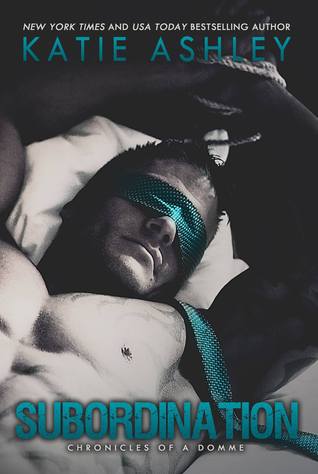 Subordination: Chronicles of a Domme

by Katie Ashley
on December 17, 2015
Buy on Amazon
Goodreads


When Sophie Jameson first became a domme at Club 1740, it was more out of financial necessity than it was for personal pleasure and sexual exploration. But over the years as she rocked her leather corsets and boots while wielding every crop and flogger imaginable, she grew to love the thrill and adulation that her clients brought her. But all along, her path in life and her heart was with a different profession—one she was planning to embark on at the summer's end.

And then he changed everything. Tall, dark, impossibly built—William was the complete opposite of whatever image a male sub conjured up. After all the subs, Sophie finally felt true lust and desire. Although he was the proud stallion who needed breaking, he became the one to make her break all her rules and let down all her walls.

But it was just supposed to be for that one night, but an accidental encounter days later outside Club 1740's protected walls had the two seeing each other in a different light—as simply Sophie and William, not Domme and sub. While they should have parted ways, they couldn't. While they should never have gone back to her place, they did.

And that simple mistake has a serious price for both of them.
I loved Subordination: Chronicles of Domme from almost the moment I opened it. I was almost immediately pulled right in and wished I could sit all day with this one.
As the blurb states, Sophie Jameson became a Domme at Club 1740, out of financial necessity for her. It was not personal pleasure and sexual exploration.
Mistress Juliette is well crafted and the acts she engages are about business, that is something the reader can feel from the instant we meet her. She is an alter ego of sorts, a facade Sophie puts on to provide for her family.
William Foster is mystery when Sophie and the reader meet him and the how we learn who he is was so well played!
From their first encounter it is clear Sophie is facing something very new to her:
 "Look at me." He jerked his gaze from my boots to meet mine. 
"Are you looking to play tonight?" 
"Yes, I am. And if it pleases you, Mistress, I would be honored if you chose me." 
Sophie and William's second meeting was well played and his desire to want more from her, his desire to explore the connection between the two of them, had me loving him more and more.
With true literary grace, Ms. Ashley paints William as a true gentleman, his desire to please and to want to be a sub doesn't turn him into a doormat.  After just a few chapters, I think many readers will be wishing William wanted to "serve" them.
What happens when William wants Sophie and the facade made this read engaging.
Ms. Ashley did a wonderful job using secondary characters to build this story. I loved Sophie's brother Ansel and her father Michael; I was so touched by Michael even more when things got tough. His reaction was that of pure love and gratitude. This book's theme of "you don't know what you would do for family" or "how far you would stretch your morals if your family was in need" will speak to many readers.
I loved how this book and these characters faced real life struggles: what happens when professional and private lives collide; what happens when jealously threatens to ruin it all, and what happens what deep heartache comes bearing down in your life.
Yes, all these have events in the plot (no I am not going to tell you what they are – read the book).
As this tale unravels, I was teary eyed and yes life comes with deep heartache, heartache that can be softened if you open your heart to the love and care of one who want to comfort you.
The epilogue has an adorable twist that turned those teary eyes into a big smile!