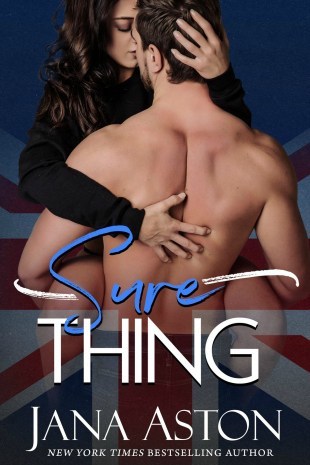 Sure Thing

by Jana Aston
on October 10, 2017
Buy on Amazon
Goodreads


Have you ever set out to have a one night stand with a sexy stranger?
No? I'm the only one?
Just kidding, I would never.
Ever.
Not usually.

But then I figured, why not? My entire life I've been good and it's gotten me nowhere.
No job.
No apartment.
No boyfriend.

I'm owed a little fun, aren't I? A reward for being good.
Sure, a new pair of shoes would be more appropriate, but Mr. Sexy Stranger is more appealing. And when he speaks—in that British accent—it's a done deal. Every American woman has a hot British guy fantasy. Well, most do. I haven't taken a poll or anything, but I'm pretty sure it's a fact.

Except…
You know that saying about best-laid plans?
Good, because I don't either, but I assume they go awry.
Like my one night stand…
Sure Thing by Jana Aston has the humor and banter I have come to count on this author for!
The first time meeting Rose and Jennings was so much fun to witness. When Rose meets Jennings again let's just say she isn't herself.
Ugh.. I am not sure how to write a review of this book without spoiling many of the twists and turns…….
Sometimes life takes you to places you never expected both literally and figuratively—this book has so much of that in it!
Jennings, the sexy Brit was more lovable the more you saw and experienced him—a sexy hero wrapped in a gentleman so to speak.
The journey these two go on was adorable, and hot and well since the reader knows things each character does not, it is also a bit anxious as you wait for the other shoe to drop so to speak.
Rose, Violet, and Daisy… well you have to read the book to see how that all plays out!
The end of this book was so well done, no unnecessary drama—just two people who truly found something they never expected embracing that!