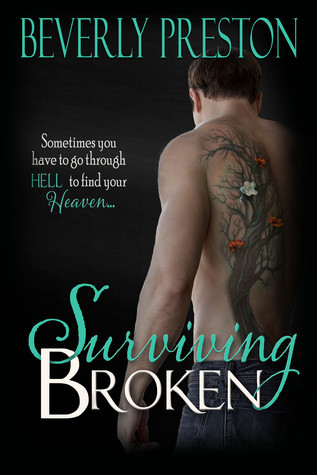 Surviving Broken

by Beverly Preston
on September 29, 2014
Buy on Amazon
Goodreads


~ Sometimes you have to go through hell to find your heaven ~

Most women have a wish list when it comes to what kind of man they want to date. JC Mathews used a strict set of guidelines as a safety net to keep herself out of trouble and out of love.

On hiatus from the bright lights and speculative gazes of her career in the fashion industry, JC lets her guard down...only to the wrong man. After escaping Italy and the hands of her abuser, she returns to Malibu to recover. The last thing she expects to find is a large, gorgeous intruder swimming naked in her pool.

Reed Rider left Texas and his broken heart behind in order to settle his aunt's affairs after her death. Seeking refuge from the California heat for a midnight swim in his neighbor's backyard, he never expects to find a nude silhouette of a long-haired beauty standing at the water's edge.

As their passion ignites and the pages of JC's rulebook fade to grey, she unlocks her guarded heart to begin a new chapter in her life. When hidden truths are exposed and secrets unravel, will they survive the threats from their broken pasts?
This book can easily be read stand alone. This book is Ms. Preston's best yet, the range of emotions she pulls from the reader is tangible – so jump right in and enjoy!
Surviving Broken is the story of JC Mathews, the youngest of Tess' children and the one who has the closest bond to Tom, Tess's second husband (whom she married after her first husband's death). I want to pause here and say I loved hearing from Tom in this book and those scenes were just WOW.
Ok back to JC…as I said this book is powerful, this book, as the title suggests, is first about how JC's broken, be warned the first part of this book will break your heart and part of your soul as JC is so lost and hurt I wanted to reach into my kindle and hug her.
As JC's journey moves forward (no I wont tell you the broken and I wont tell you how she moves forward because I truly think the reader needs to experience this first hand) the reader can feel her trying to heal, trying to put the pieces back together.
When JC meets Reed and then re-meets him, the sparks are tangible. JC learning to open her heart again, JC allowing Reed to care and love her and JC experiencing Reed's past pain all solidified for me that this is a forever love.
Reed's understanding of JC's past and her pain, his desire to help her heal, "eyes on me Darlin"….so many things that made me love Reed!! Reed is the kind of man readers can get lost in, the kind of man you wish you could curl up with and smile into his eyes.
Reed's past was so heart pulling; the scenes when he returns hope to Texas allows the reader to understand him even more and also speaks volumes to the love JC feels deep in her soul for him.
Towards the end of this book, my heart was in my throat; there was tangible energy and conflict that played out so right.
I loved the use of Tess and Tom, JC needed something and their answers spoke volumes to how you move forward. Because in the end, it is not about what life gives you but what you do with it.
I want to make sure to say the book cover is so well tied to this story that every time I stare at it, my heart pulls for Reed.
Thank you, Ms. Preston for the powerful story of hope and love!
♥READ THE SERIES♥
Book 1 – No More Wasted Time
Book 2 – Shayla's Story
Book 3 – The Perfect Someday
Pre-Order Book 4 – Surviving Broken